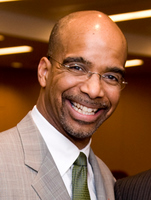 Northwestern Medicine announced that Clyde W. Yancy, MD, has been named the Magerstadt Professor and chief of the Division of Cardiology at Northwestern University Feinberg School of Medicine and Northwestern Memorial Hospital.
"It is tremendously exciting to welcome a cardiologist as accomplished and highly esteemed as Dr. Yancy," said Douglas E. Vaughan, MD, the Irving S. Cutter Professor of Medicine at Feinberg and the chair of Department of Medicine for the medical school and hospital. "Clyde's clinical leadership will enable us to continue to build upon our exceptional track record in quality and outcomes for cardiovascular patients. His depth of experience expands the strengths of our medical leadership and emphasizes our commitment to excellence in our cardiovascular services in research and in training."
Yancy was most recently based in Dallas as the medical director for Baylor Heart and Vascular Institute and the chief of cardiothoracic transplantation for Baylor University Medical Center. He is the immediate-past president of the American Heart Association (AHA).
Yancy received his medical degree from Tulane University School of Medicine in New Orleans in 1982. He completed his post-graduate training in internal medicine and cardiology at Parkland Memorial Hospital and the University of Texas Southwestern Medical Center in Dallas, where he received his first faculty appointment in 1989. While there, he was promoted to professor of medicine and served as medical director of the heart failure and heart transplant programs. He was recruited to lead Baylor University Medical Center's cardiothoracic transplant program and the Baylor Heart and Vascular Institute in 2006.
"Northwestern's cardiovascular program has had a remarkable upward trajectory for some time," said Yancy. "It was quite impressive to see the rich heritage and reputations of the hospital and medical school culminate as Northwestern Medicine™. That alignment was very important to me, and I look forward to contributing to the growth of such a thriving program."
Yancy replaces Robert Bonow, MD, who helped establish the Bluhm Cardiovascular Institute and dedicated his career to outstanding patient care and research in the field of cardiology. Bonow holds the distinguished Goldberg Professor of Medicine faculty appointment at Feinberg and has assumed the leadership roles of vice chair of the Department of Medicine and director of the Center for Cardiovascular Innovation. Like Yancy, Bonow is a past president of the AHA.
Yancy's academic and professional interests include hypertension, heart failure, and heart transplantation, ethnic and racial disparities in cardiovascular disease, and clinical trials. He assumes his new chief post this month; his clinical practice is slated to open summer 2011. He has participated in more than 30 multi-center, clinical research studies, either as a principal investigator, chair, or steering committee member. He has co-authored more than 200 contributions in medical literature and has received many honors and awards, including the Charles Richard Drew award in 2009, the National Association of Black Cardiologists, Inc "Cardiologists-In-Training" hero award in 2006, and being named AHA's 2003 national "Physician of the Year," to cite a few.
Yancy currently serves on the executive committee for the Heart Failure Society of America, the Guidelines Task Force for the American College of Cardiology, and continues to hold numerous appointments for AHA. He is also the immediate past chair of the Food and Drug Administration's Cardiovascular Device Panel, for which he continues to serve as an ad hoc adviser.
"Coming to Northwestern is, for me, a pinnacle along an incredibly rewarding and fulfilling medical career," said Yancy.