Simulation Technology and Immersive Learning Center
Celebrates Grand Opening
Simulation Technology and Immersive Learning Center Director John Vozenilek, MD, associate professor in the Department of Emergency Medicine, spoke to open house attendees about the center's impact on the future of medical practice and patient care.
The Northwestern University Feinberg School of Medicine Simulation Technology and Immersive Learning (STIL) Center offers medical students, residents, physicians, and other staff from Northwestern and its affiliate institutions a place to practice hands-on clinical care. The center, which opened its doors in April 2010, celebrated its official grand opening on December 9, providing guests with a chance to explore the space and learn more about its offerings.
"I am bursting with pride today," said STIL Center Director John Vozenilek, MD, associate professor in the Department of Emergency Medicine. "We began this project many years ago; I am thrilled to see the outcome and to discover what the future holds for simulation technology."
Two years ago, the medical school made a commitment to build the state-of-the-art simulation center to help medical students, residents, and hospital personnel acquire the skills necessary for the day-to-day treatment of pediatric and adult patients.
J. Larry Jameson, MD, PhD, vice-president for medical affairs and Lewis Landsberg Dean, credited Vozenilek's energy and vision for the success of the center and its ability to exemplify the medical school's strategic vision of alignment, innovation, and impact.
"The center has formed partnerships across Feinberg, the University, and healthcare's many disciplines; clearly, the impact of the training offered here is broad," Jameson said. "Simulation is surely one of the most exciting areas of medicine."
Jameson also recognized Raymond Curry, MD, dean for education, as another catalyst for the center — a project Curry calls the medical school enterprise of the future.
"The simulation center is open to all individuals who are engaged in quality education and research efforts," Curry said. "Moving forward, its resources will drive medical education, nursing education, and more."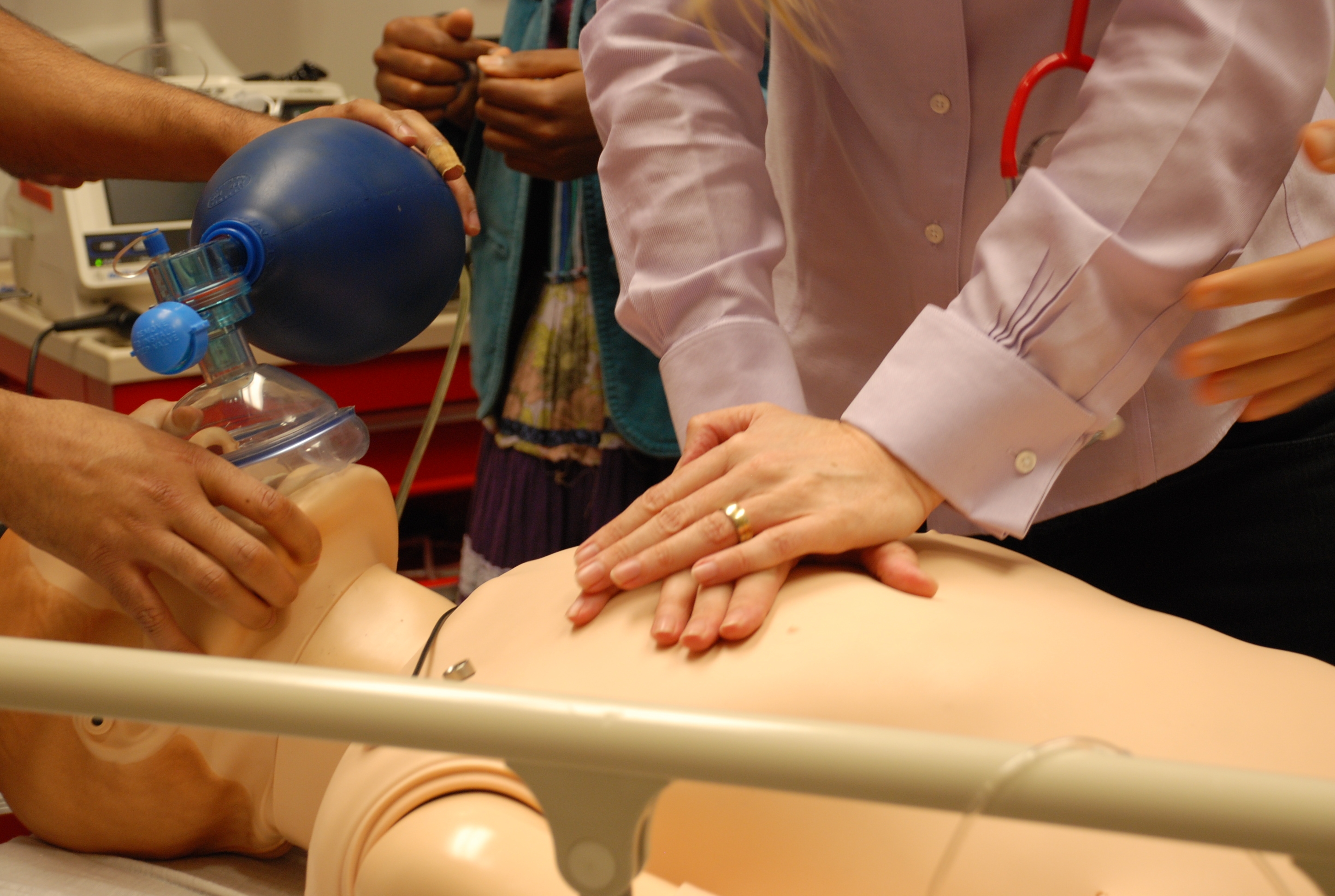 The simulation Center offers healthcare professionals an opportunity to practice teamwork and communication skills, two areas that, when lacking, can cause medical errors.
Those resources include five simulation bays designed to look like a fully-equipped hospital room, two skills labs, and an Innovations Lab offered in collaboration with the McCormick School of Engineering, where new simulation devices are created. With five patient rooms, multiple simulation experiences are performed at once with different groups of learners. The 11,000 square foot space can also accommodate highly-complex patient scenarios with another group to provide true immersive learning.
Four thousand feet of cable support 17 fixed cameras, 15 in-room listening devices, and 12 digital video recorders, in addition to X-ray monitors and other equipment throughout the facility, to capture interactions in the patient rooms and hallways. Videotaped sessions allow instructors to evaluate the learners' teamwork and communication skills, as breakdowns in these exchanges are often cited as reasons for errors in real-life patient situations.
The center also opens its doors to outside groups, educating people about the benefits of simulation and, in some cases, showing scenarios and cutting-edge equipment in action.
"We aim to influence curriculum and training in a variety of disciplines," said Vozenilek. "Our state-of-the-art educational methods and tools for teaching are intended to advance the future of medical practice and patient care."