AMWA, WFO Host Mentoring Tea to Advance Women in Medicine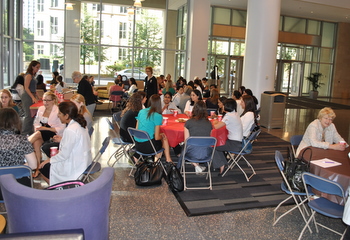 The American Medical Women's Association (AMWA) and Women's Faculty Organization co-sponsored Feinberg's most successful mentoring tea event to date.
The Northwestern University Feinberg School of Medicine chapters of the American Medical Women's Association (AMWA) and the Women Faculty Organization (WFO) hosted a mentoring tea to connect female medical and physician assistant students with female faculty members.
Approximately 60 students and 40 faculty members participated in this year's event, the best attended to date. The tea supports the WFO's focus on career development, as well as AMWA's mission to advance women in medicine and improve women's health education in the community.
During the event, students chatted with female physicians and researchers on a range of topics, from choosing a specialty to balancing work and family life. Throughout the year, students have an opportunity to reconnect with these mentors and gain further advice about being a female in the medical profession.
"Students are encouraged to ask questions that are not typically brought up during routine interactions with faculty," says Jennifer Hoffmann, a second-year medical student and co-president of the AMWA. "They also have a chance to meet faculty members whom they may wish to shadow or conduct research with in the future."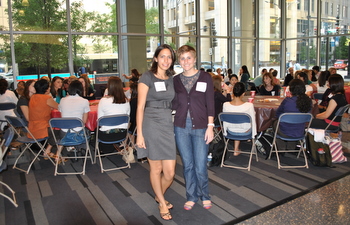 AMWA co-presidents Jennifer Hoffmann (left) and Joelle Straehla, both second-year medical students, spearheaded planning for the annual event.
The event also proves beneficial to faculty members, as they are able to network with other faculty and impart wisdom onto the younger generation of female physicians and researchers.
Kimberley Dilley, MD, assistant professor in the Department of Pediatrics, enjoys spending time speaking with future providers about the differences in medical career pathways and the flexibility permitted by her chosen field. Dilley insists that career guidance should come from multiple sources.
WFO co-chair Aruna Ganju, MD, associate professor in the Department of Neurological Surgery, agrees that the mentoring tea consistently serves as an invaluable experience for faculty — providing them with an opportunity to reflect on their training and career and make observations about both obstacles and triumphs.
"Medical students are often influenced by the older colleagues they encounter," Ganju says. "I think that we are able to pass on some of our lessons learned to the younger generation. It also allows us to gain some perspective."
The AMWA will hold a series of events this October to raise awareness for Interpersonal Violence Awareness Month. A speaker from the Zacharias Sexual Abuse Center will talk to Feinberg's future medical professionals about advocating for patients who are victims of sexual abuse. AMWA will also host a self-defense workshop October 25 on the Chicago campus. Experts from IMPACT, a non-profit organization focused on self defense, will teach women personal safety tools needed to prevent, minimize, and stop interpersonal violence. For a list of upcoming speakers and events, visit the AMWA web site.