Medical Faculty Council Announces 2010 Mentors of the Year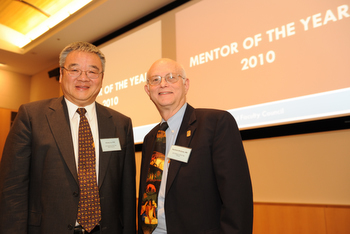 The Feinberg Medical Faculty Council honored Kiang Liu, PhD, professor and associate chair of research for the Department of Preventive Medicine
(LEFT)
, and Stanford T. Shulman, MD, Virginia H. Rogers Professor of Pediatric Infectious Diseases, with 2010 Mentor of the Year awards.
The Northwestern University Feinberg School of Medicine Medical Faculty Council (MFC) honored Kiang Liu, PhD, and Stanford T. Shulman, MD, with 2010 Mentor of the Year awards at a reception on September 23. The awards recognize outstanding faculty members who have demonstrated a deep commitment to fostering the professional growth and development of their colleagues.
Peers nominate individuals for the award, and this year the MFC received nominations for 27 faculty members from across the medical school. For the first time, the organization distributed two mentor awards, which allowed them to honor an individual in both the clinical and the research fields.
Liu, professor and associate chair of research for the Department of Preventive Medicine and professor of medicine, says his mentoring approach involves listening to his mentees' ideas or reading their proposals carefully, then offering suggestions. If Liu's mentees study topics outside his field of expertise, he introduces them to experts within or outside the University whom he knows through involvement in national and international studies.
"I try to provide opportunities for my junior colleagues to grow by helping them to conduct their studies, and by introducing them to potential collaborators," says Liu, who was recognized by 35 former and current colleagues for his leadership in basic science. "Collaboration is not a one-way street. I learn a lot from my junior colleagues; they broaden my knowledge base too."
Clinical faculty mentor Shulman, Virginia H. Rogers Professor of Pediatric Infectious Diseases in the Department of Pediatrics and chief of the Division of Infectious Diseases at Children's Memorial Hospital, says he promotes the view that the most important task of a division, section, or department head is to support the mentoring of trainees and junior faculty.
"I think most of us in academic medicine are here in large part because we want to identify and to nurture the careers of bright young students, residents, fellows, and faculty — supporting their academic careers in research, education, clinical work, and other endeavors," Shulman says, adding that he is touched by the many colleagues and trainees who wrote letters of support on his behalf.
Keith Benzuly, MD, associate professor of medicine and cardiology and president of the MFC, insists that mentorship remains a key component in moving junior level faculty into a more senior role.
"We all succeed on our own merits, but rely on our mentors to help us determine how our careers take shape," Benzuly says. "Both Drs. Liu and Shulman have a long history of mentoring individuals who have gone on to do great things.
"All of the nominees deserve to be acknowledged for their unselfish devotion to junior faculty, residents, and students," he adds. "These people don't do what they do for the recognition; their reward is watching their mentees succeed."