Founders' Day Marks Opening of 2010-11 Academic Year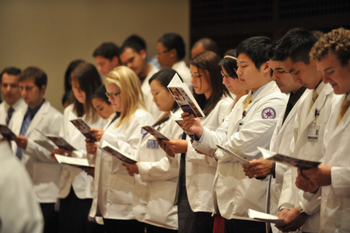 Students from the Class of 2014 were welcomed into the medical profession by donning their white coats and reciting the Declaration of Geneva for the first time.
With the passing of the Affordable Care Act earlier this year, the Northwestern University Feinberg School of Medicine 2010 Founders' Day Convocation

on August 27 took on a dual purpose: to officially welcome first-year students from the Class of 2014 to the medical community, and to prepare these future physicians for the coming transformation of healthcare in America.
Of the 170 Doctor of Medicine (MD) candidates, fourteen students entered Feinberg's Medical Scientist Training Program (MSTP) and will receive both MD and PhD degrees upon completion of their studies; eight students will earn MD/Master of Public Health (MD/MPH) degrees and two others will earn a combined MD/Master of Arts in Medical Humanities and Bioethics (MD/MA).
J. Larry Jameson, MD, PhD, vice president for medical affairs and Lewis Landsberg Dean of the medical school, expressed his gratitude to the talented members of the new class who will help write the story for the future of the medical school, and spoke to them about their path to becoming a physician.
"Your college mentors, the medical school faculty, your peers, and the healthcare providers you meet along the way will all help you to build your database of knowledge and ensure your success," Jameson said. "Many of you consider medicine a calling, but it's also a profession, and an exciting one due to the rate of advancements in areas such as genomics, genetics, and imaging."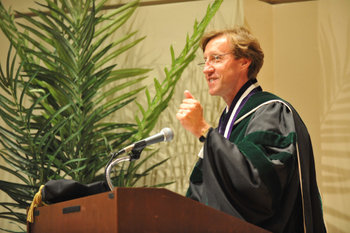 J. Larry Jameson, MD, PhD, vice president for medical affairs and Lewis Landsberg Dean of the medical school, welcomed students, faculty, and families, and reminded first-years of the unique privilege they have earned in becoming a physician.
After introductory remarks by Northwestern University President Morton O. Schaprio, the microphone was passed to keynote speaker Russell G. Robertson, MD, professor and chair of the Department of Family and Community Medicine, who engaged listeners with his Dr. Seuss-inspired presentation, "Oh, the Places You'll Go!"
In his address, Robertson advised students on the importance of managing their careers. He asked each of them to compare their internal environment (medical school at an academic health center) with the external environment (health care reform and the economy) in light of their responsibilities to society and, more appropriately, to their patients.
"You will be taught by outstanding clinicians and care for a great deal of sick people in the next four years," Robertson said. "But, you need to recognize that academic medical centers do not portray the world as it is, since less than one percent of the population has the means to be hospitalized in this setting."
To broaden their experience, Robertson encouraged students to seek out opportunities to treat patients in community clinics across Chicago and, through Feinberg's global health programs, the world.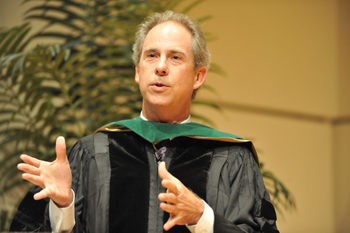 In his forward-thinking address, Russell Robertson, MD, professor and chair in the Department of Family and Community Medicine, explained the importance of managing careers to the Class of 2014, whose first year of residency will be impacted by health care reform.
Robertson then shared statistics about universal healthcare coverage, which he said could add four percent to overall demand for physicians, increasing the projected physician shortfall by 31,000. It also points to a future of more team-based health care, he said, one that relies on partnerships between physicians, physician assistants (PA), nurses, and other healthcare providers.
With Feinberg's first class of PA students entering this year, Robertson reminded students that their class would be the first to sit alongside these students in the classroom and work alongside them in clerkships. Since very few medical schools integrate PA and MD candidates, Robertson says, Feinberg students will earn a leg up on other future providers.
"You'll be at the cutting edge," said Robertson. "You have every reason to expect long and satisfying careers."
The Founders' Day event also served as the venue for presenting numerous honors to faculty who have made an impact on students, as well as on Feinberg leadership.
Raymond H. Curry, MD, dean for education, assisted in the presentation of awards, including the Dean's Awards for Teaching Excellence, which went to:
George H. Joost Awards for Teaching Excellence honored four faculty, including:
Michael M. Ravitch Outstanding Teacher Awards went to:
Martha Gulati, MD, assistant professor in the Departments of Medicine and Preventive Medicine received the 2010 American Medical Women's Association (AMWA)/Gender Equity Award. Second-year medical students Jennifer Hoffmann and Joelle Straehla, co-presidents of Feinberg's AMWA chapter, presented Gulati with the award, recognizing her as an exemplary role model and someone with a passion for women's health issues, especially female heart disease.
Class of 2012 student Bruce Henschen, president of the Medical School Student Senate, presented the M2 Student Senate Service Awards to classmates Nicole Araneta, Zachary Bay, Christine O'Conor, Patrick Tyler, and Timilehin Wusu.
He then spoke to first-year students, counseling them to continuously remember the patients who suffer from the diseases that they will learn about in textbooks.
"When we read about measles, for instance, we should think about vaccinations and the public relations efforts that spread the word about their impact," says Henschen, adding that he feels lucky to have the opportunity to make a life out of caring for others.
Henschen also led the White Coat Ceremony, encouraging second-year students to assist their first-year "little sibs" in adorning their first white coat — symbolic of their entrance into the medical community.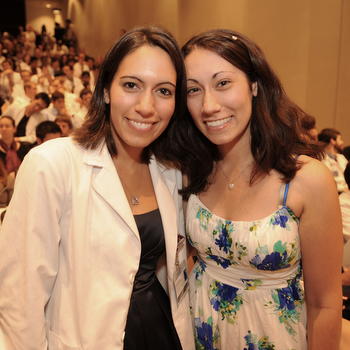 Founders' Day proved a unique experience for first-year student Mindy Hoffmann (right), who was cloaked by her Feinberg "big sib" and real life little sister Jennifer, a second-year student.
The tradition proved especially memorable for Class of 2013 student Jennifer Hoffmann, BA '09, who cloaked her older sister Mindy Hoffmann, BA '10, a first-year. The New Jersey natives, both of whom attended Northwestern University for their undergraduate studies, say they have always been close and look forward to assisting each other in their medical school journeys.
"I provided Mindy with my old books, my notes, and tons of advice," Jennifer says. "This ceremony is a special moment for our family, and I'm just so proud to be here at Feinberg with my sister."
To close the ceremony, Dean Jameson led students in a recitation of the Declaration of Geneva. By reading these words, also referred to as the Physician's Oath, students promise to "maintain by all means in [their]power, the honor and the noble traditions of the medical profession."
"Altruism is a key part of our profession," Jameson told the Class of 2014. "You will have to dedicate time and energy to solving the problems faced by your patients."