Student Group the Jugulars Juggle More Than Books, Courses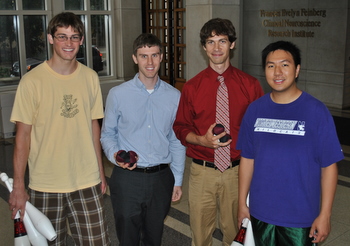 Jugulars members and second-year medical students Andrew Haynes, Andrew Morris, and Andrew Ketterer practice their juggling skills with former club president and third-year student Sam Yu.
Northwestern University Feinberg School of Medicine's juggling club, the Jugulars, offers medical students an opportunity to put their textbooks down and throw their hands up. The informal club — comprised of about 15 first- and second-year students who meet twice per week to learn new tricks and practice old ones — books several performances throughout the year, but mainly serves as an activity members participate in as a way to de-stress.
"Juggling is a great release from the pressures of medical school life," says Andrew Haynes, a second-year MD/MA student and president of the club. "Not only is it enjoyable for us, juggling is an easy way to share that fun with other people."
Founded in 1998 by former associate dean of student programs Jack Snarr, PhD, professor emeritus in the Department of Physiology, and alumnae Beth Villavicencio, MD '02, PhD '02, the Jugulars continues more than 10 years later due to the interest of students like Haynes and club treasurer Andrew Ketterer, also a second-year MD/MA student. While Haynes juggled in a high school club, Ketterer learned his skills after joining.
"The club remains open to anyone regardless of skill level. In fact, the majority of members had never juggled before they came to medical school," says Haynes, adding that the club continuously recruits new members.
The Jugulars perform for children at local elementary schools and for patients at the Rehabilitation Institute of Chicago, Children's Memorial Hospital, and Northwestern Memorial Hospital's Prentice Women's Hospital — incorporating the audience into each show. Each year, club members also perform for their peers as part of the medical school sketch comedy show, In Vivo.
"Performances are a lot of fun and a great stress relief for all different kinds of people, whether they are other medical students, patients in the hospital, or simply visitors from around the city," says Haynes.