PA Program Offers Students an Innovative Curriculum that is Directly Applicable to Clinical Practice
The Northwestern University Feinberg School of Medicine Department of Family and Community Medicine recently welcomed the first class of students to its Physician Assistant (PA) Program, a two-year graduate program that awards students a Master of Medical Sciences degree.
James Van Rhee, MS, PA-C, associate professor and director of the PA Program, credits the recent growth in popularity of the PA profession to health care reform and the changes happening in medical education. A number of well known magazines including Money and Forbes presently list the PA profession as one of the top professions in the U.S.
"Money reported that earning a master's degree in physician assistant studies offers the best salary and employment prospects over the next decade," he says, adding that similar statistics were influential in motivating the medical school to launch its program. "It is my hope that the PA Program will enhance the medical education provided here at Feinberg."
The program plans to accept 30 talented students each year — individuals with undergraduate majors that span from biology and chemistry to history and nuclear medicine technology. The first class of students each came to Feinberg with an average of 2,500 clinical hours, which they will expand on during their tenure at the medical school, obtaining real life experience at Northwestern Memorial Hospital and community clinics. These visits allow the students to not only see how their new knowledge and skills are applied to the practice of medicine, but also put these new skills into action.
When they're not in the clinic, students spend approximately 25 hours per week in the classroom. The program includes lectures, which ensure students become competent consumers of medical literature and research, but centers around an innovative curriculum involving problem-based learning.
"PA students collaborate in small groups and work through real clinical cases to learn the medical skills needed to take care of patients," says Van Rhee. "Through this method, students develop lifelong learning and clinical reasoning skills that they will need for clinical practice."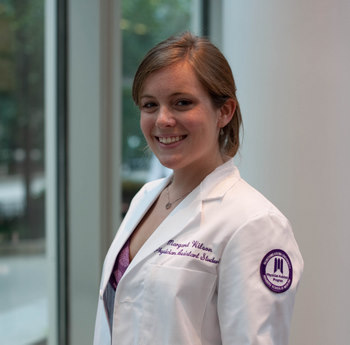 Her passion for healthcare inspired student Margaret Wilson to pursue a career as a physician assistant.
Class of 2012 student Margaret Wilson recently earned a Bachelor of Science degree with a concentration in brain, behavior, and cognitive sciences from the University of Michigan. Her love of medicine inspired her to pursue a career as a physician assistant. Wilson says she connected with Feinberg faculty and staff during the interview process and remains impressed with the program's resources, which are offered as a result of its integration with the medical school and the city of Chicago.
Wilson says that the program's "intense yet helpful" problem-based learning technique allows her to directly apply her newfound knowledge to patients.
Before starting at Feinberg, Wilson worked at the University of Michigan Hospital performing EKGs and blood gas analysis. While Wilson remains interested in many different specialties, she looks forward to returning to the hospital setting to start clinical rotations and determine which area appeals to her most.
"I have a passion for healthcare and want to make a difference," said Wilson. "Being a physician assistant means I'll have the flexibility to pursue different areas of interest and be a part of this changing field of practice."