Medical School Graduates Reconnect at Alumni Weekend 2010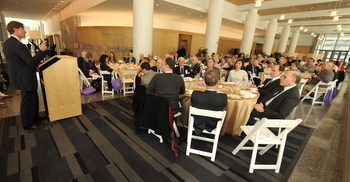 J. Larry Jameson, MD, PhD, vice president for medical affairs and Lewis Landsberg Dean at Feinberg, addresses medical school graduates at a welcome lunch during alumni weekend.
Members of the Class of 1960 retired their short white lab coats 50 years ago, yet 42 of these Northwestern University medical school graduates — along with hundreds of fellow alumni from other classes — came to Chicago to reconnect with old friends and learn about the future of the Feinberg School of Medicine at Alumni Weekend 2010.
As part of the event, the medical school hosted campus tours led by Ron Sims, librarian at the Galter Health Sciences Library and resident historian, held class dinners, and showcased new technology at the medical school. A presentation on healthcare reform, workshops related to retirement preparation and estate planning, as well as a workshop in bioethics, rounded out the menu of opportunities for alumni to become reacquainted with the medical school and the field of medicine.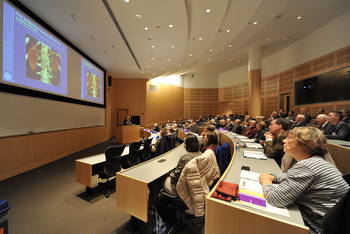 Alumni participated in numerous workshops, like Advances in Radiology at Northwestern, which allocated CME credits to physicians who attended.

Karsten Konerding, MD '70, BA '66, GME '71, of Richmond, Va., attended the reunion with his wife Hazel Konerding, MD, BA '69, whom he met while an undergraduate student at Northwestern and married at the end of his third year in medical school. While alumnus Konerding, a radiologist, came early to hear a case review of advances in radiology at Feinberg, he says the real reason he made the trip to Chicago was to learn about the state of the school.
"What has happened and what is happening at the medical school is still important to me, because this is where I got my start," says Konerding. "Also, my wife and I are Virginians, so history is important to us."
Alumnus John Stoner, MD '65, BA '61, GME '71, of Aurora, Ill., was also interested in discovering the progress being made at Feinberg. Stoner, who practices as a general surgeon, says attending alumni weekend gave him the opportunity to learn more about the new Ann & Robert H. Lurie Children's Hospital of Chicago, which is scheduled to open on the Chicago campus in 2012.
"I'm very curious about the future of the Children's Hospital; and I'd like to gain more information about its plans to collaborate across campus," says Stoner.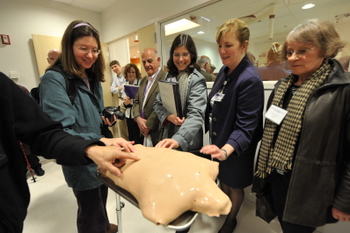 Feinberg hosted alumni on tours and demonstrations across the Chicago campus
— even offering hands on experience at the Simulation Technology and Immersion Learning Center.

Although alumni were particularly interested in hearing from Feinberg leadership regarding the future plans for the medical school, reflecting on the past was certainly the overarching theme of the weekend. Robert Linden, MD '60, BA '56, of Hernando, Fla., who practiced child psychology for more than 30 years at University of Wisconsin-Madison, says he still remembers his days as a member of the Phi Rho Sigma fraternity while living in Abbott Hall, a dormitory at that time.
"We had quite a fellowship at Abbott," says Linden. "We had to work hard to get through medical school, but we did it together."
Linden was joined by his wife Dolores for his first-ever reunion. Linden says medical school was an important four years of his life and it was finally time to celebrate with his classmates.
Ginny Darakjian, assistant dean for Alumni Relations, says similar sentiments were present throughout the weekend. While at the reunion ball, Roger Hurwitz, MD '60, revealed to her that he had looked forward to this 50-year class reunion for so long and was enjoying it so much, that he was quite sad it was nearly over.
"It's an emotional experience for alumni to reach these milestones in life when they take the opportunity to reflect on their lives together with the friends they made in medical school," explains Darakjian.
Alumni Weekend also offered the medical school the opportunity to acknowledge the accomplishments of its alumni. Presentations of the Distinguished Alumnus Award to Bruce Scharschmidt, MD '70, Dean's Award to Melvin Gerbie, MD '60, and Service Award to Warren Furey, MD '60, GME '63, were highlights of the weekend. In addition, Michael Barratt, MD '85, GME '88, GME '89, a NASA astronaut, presented a sesquicentennial banner he had taken to the International Space Station.
"Our alumni are our ambassadors to the rest of the world and, beginning with Joseph Kerwin, MD '57, who was the first physician in space, and now with Dr. Barratt, into space as well," Darakjian says. "If past is prologue to the future, our future is bright, indeed."