Maggie Daley Center for Women's Cancer Care Debuts
The Maggie Daley Center for Women's Cancer Care, part of the Robert H. Lurie Comprehensive Cancer Center of Northwestern University, was unveiled at a ceremony on April 19.
The center is a partnership between Northwestern University Feinberg School of Medicine, Northwestern Medical Faculty Foundation, Northwestern Memorial Hospital and the Rehabilitation Institute of Chicago.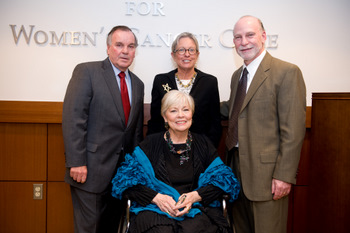 (Back row, left to right) Richard M. Daley, mayor of Chicago; Ann Lurie, Northwestern University trustee; Steve Rosen, MD, Genevieve E. Teuton Professor of Medicine at Feinberg and director of the Lurie Cancer Center; and (front row) Maggie Daley, first lady of Chicago, attended a ceremony that celebrated the debut of the Maggie Daley Center for Women's Cancer Care.
Named after the First Lady of Chicago, who receives treatment for breast cancer at the Lurie Cancer Center, the new two-floor Center for Women's Cancer Care offers a unique "one-stop shopping" integrative, holistic approach to cancer care that addresses and centralizes all of a woman's needs — emotional, aesthetic, and physical — during treatment. Centralizing these services is important because finding and driving to various locations often feels overwhelming to a patient whose primary focus is cancer treatment.
At the center, which is located in Northwestern Memorial Prentice Women's Hospital, a patient can easily access services to improve her quality of life in the same place she is seeing internationally renowned medical oncologists, gyne- and surgical oncologists and receiving cutting-edge therapy for breast and gynecological cancers. For example, a woman could get acupuncture or Reiki, visit a nutritionist or see a health psychologist to cope with her diagnoses and life during treatment. Adding to the convenience, she could receive many of these services while being infused with chemotherapy. A new program also offers rehabilitation services for women to maximize their strength and endurance. A new "healing boutique" offers wig and prosthesis fittings, hats, and makeup consultations for patients undergoing chemotherapy and radiation treatments.
The Center for Women's Cancer Care also offers patients access to novel therapies and drugs, and access to more than 100 clinical trials. A cancer genetics program within the center screens patients at higher-than-average risk for cancer and provides education and guidelines for early detection and possible prevention of the disease. The center includes 11 private chemotherapy rooms, most with lake views, and a group chemotherapy area, providing patients with a choice of environments.
"This represents an opportunity to care for the whole patient in one place," said Julian Schink, MD, director of gynecologic oncology for the Lurie Cancer Center, Feinberg, and Northwestern Memorial. "We identified what someone really needs to be well in addition to their cancer therapy."
Schink said the small things that can drastically improve cancer patients' quality of life get overlooked because they don't seem paramount in comparison to cancer treatment. As an example, Schink mentioned the center's wig fitting service.
"Does your wig stay on? How do you keep it straight? If your wig doesn't stay on, then you don't go outside. If you just received chemotherapy, you are not going to get in your car to have someone teach you how to do that," he said.
Mrs. Daley spoke at the opening ceremony. She was accompanied by her husband, Mayor Richard M. Daley.
"The tremendous care I have received from Northwestern Hospital and the Lurie Cancer Center has impressed upon me the remarkable healing power of care in every sense of the word — from treatment to thoughtfulness, protection, and sensitivity.
"When people walk into this center for women's cancer care, which now carries my name … a fact that has honored me more than anyone will ever know … I feel certain that they will receive the utmost care possible, both medically and emotionally, in both big and small ways," she said.