Doctor of Physical Therapy Program Provides Research Opportunities, Teaches Feinberg Students to Practice Patient-Centered Care
The Doctor of Physical Therapy Program (DPT), housed in the Northwestern University Feinberg School of Medicine Department of Physical Therapy and Human Movement Sciences (NUPTHMS), can not only boast about its standing as the oldest physical therapy school in the nation but can also tout its U.S.News & World Report ranking, where it consistently lands among the top 10 physical therapy schools.
Jane Sullivan, PT, DHS, associate professor in the NUPTHMS department at Feinberg and assistant chair for recruiting and admissions for the DPT Program

, says Feinberg's program, which enrolls 75 students per class in the DPT curriculum and approximately two students per class in the combined DPT/PhD in Engineering Program, is unique in the opportunities provided for students to engage in research. In fact, depending on the year, 50-75 percent of students have their research accepted for presentation at national physical therapy association meetings or the meetings of other scientific societies.
"Feinberg students are exposed to cutting edge research and contribute to the discovery of new knowledge through their own research projects," Sullivan says. "Additionally, our students learn to practice an evidence-based model that is patient-centered and progressive."
Students learn through a curriculum comprised of lectures and clinical experiences. This includes part-time clinical involvement during the academic part of the curriculum, as well as 38 weeks of full-time clinical internships, divided between four of almost 400 clinical education sites available throughout the country. While completing their internships, students are required to allocate time among acute care, in- and outpatient settings and work with individuals who have neurologic, orthopedic, and general medical diagnoses.
"All of our coursework is organized around a motor control framework that enables our students to diagnose and treat movement dysfunction," Sullivan says. "This unifying construct permeates all DPT classes and ultimately defines Feinberg students and alumni by their way of thinking."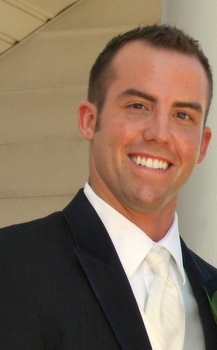 Stephen Baynai, a student in the DPT Program.
Stephen Baynai, a student in the DPT Program, says he selected Feinberg because its program is at the forefront of physical therapy education ― employing faculty who are not only leading experts in the field, but also committed to advancing the profession of physical therapy by using their knowledge and clinical experience to train and inspire future rehabilitative clinicians.
"A DPT degree from Feinberg carries with it a reputation of excellence that has been strengthened over many decades of physical therapy education," Baynai says. "I chose the program knowing that I would be a part of this reputation and that, upon graduation, it would be my responsibility to uphold and strengthen it throughout the course of my career."
Through the DPT Program, Baynai is involved in research, working with a group of three other students, under the supervision of Colum MacKinnon, PhD, assistant professor in the NUPTHMS department, to examine the effects of transcranial direct current stimulation (tDCS) on normal and disordered movement in individuals with Parkinson's disease. The team is using cathodal stimulation of the supplementary motor area in an attempt to improve performance on a repetitive movement task.
Baynai says his training at Feinberg is also teaching him and his fellow students to be autonomous practitioners, utilizing evidence-based practice and skills of differential diagnosis to provide the highest level of patient-centered care.
"I have truly developed my clinical practice and reasoning skills," says Baynai, who is preparing to enter his second clinical experience at a large, urban hospital in Detroit. "I feel that I have the knowledge, clinical reasoning, and skill set to be an active and effective member of the facility's rehabilitation team."
Baynai also represents his class in the American Physical Therapy Association (APTA) and the Illinois Physical Therapy Association (IPTA) and has had the opportunity to go to national APTA meetings and the local IPTA chapter meetings. Baynai has even traveled with a faculty member to another local university to give a presentation about careers in physical therapy and to talk about Feinberg's program.
Baynai, who has not decided which area of physical therapy he hopes to practice in post-graduation, says these are just a few of the experiences that have contributed to his growth and development as a student and professional.