Feinberg Student Wins AMA Foundation Award
MD/MA student Sebastian Lara honored for demonstrated leadership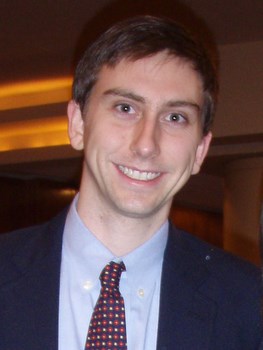 Sebastian Lara, a second-year MD/MA student, is presented with an American Medical Association (AMA) Foundation 2010 Leadership AwarD by AMA President J. James Rohack.
Second-year Northwestern University Feinberg School of Medicine MD/MA student Sebastian W. Lara has been awarded an American Medical Association (AMA) Foundation 2010 Leadership Award. The award recognizes individuals who have demonstrated outstanding non-clinical leadership skills in advocacy, community service, and education.
Lara, one of only 20 medical students nationally to receive the honor this year, is very active in the Feinberg community. He teaches classmates as a coordinator of the Medical Spanish program, leads the Northwestern Catholic Medical Students Association, and is president of Northwestern University Alliance for International Development, a student group that sponsors medical service trips to the Caribbean and Central America and conducts multiple health projects for local Chicago neighborhoods.
Lara was presented with the award at a recent awards ceremony in Washington D.C., where he received special training to develop his skills as a leader in organized medicine and community affairs. Award ceremony attendees included U.S. Secretary of Health and Human Services Kathleen Sebelius and Surgeon General of the United States Regina Benjamin.
Training sessions at the conference included public speaking and effective communication. For Lara, the experience was incredible. The event complemented his experience at Feinberg and encouraged him to continue tackling major issues, he said.
"The award conference taught me that a leader is someone unafraid to think big and to think differently about a problem to be solved," Lara said. "While the Feinberg community has taught me that a leader is someone who can find that solution in the team of short – or long – white coats sitting around him."