Feinberg Students Lead Efforts to Promote Equality and Equity, Lobby for Legislation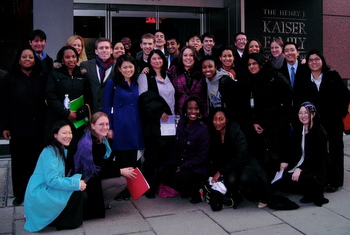 Shuo Song and Maya Ragavan, both second year MD/MPH students, joined other students at the Health Equality Leadership Institute (HELI) in Washington, DC.
Two students from Northwestern University Feinberg School of Medicine had the opportunity to attend the Health Equality Leadership Institute (HELI) recently in Washington, DC. The institute, hosted by the American Medical Student Association (AMSA), Student National Medical Association (SNMA) and Asian Pacific American Medical Student Association (APAMSA), brought together a diverse group of pre-medical students, medical students and residents from across the country ― individuals interested in understanding health equity and training to lobby for its legislation.
Shuo Song and Maya Ragavan, both second year MD/MPH students at Feinberg, applied and were accepted to this year's program, which hosted 25 students. They were seeking supplemental training, as well as the opportunity to speak with peers who share similar passions.
Song and Ragavan also thought it would be an appropriate occasion to talk with other students about their Cultural Sensitivity Skills Program (CSSP), an optional cultural competency curriculum ― designed and managed by Song and Ragavan ― for medical students throughout Chicago.
The mission of the CSSP, says Ragavan, is to increase awareness and appreciation of the cultural determinant of health and to provide students with the skills necessary to address cultural sensitivity issues in their practice. Students gain hands-on experience in an effort to hone the following skills: eliciting a patient's model of disease, managing mistrust in the clinical setting, approaching Western medicine from a collectivist perspective, overcoming language barriers, and evidence-based practice of cultural competency.
"We wanted to generate some interest from others across the country and get some feedback on how we could improve the program," says Song. "We were flattered by the level of support we received; and we were able to develop some concrete ideas for improving the CSSP."
The HELI program also provided an opportunity to lobby for health equity legislation on Capitol Hill. Through the program, students focused on bill H.R.3090, which seeks to improve the health of minorities.
"Walking down the halls of the House Office Buildings was both exhilarating and intimidating," Song says. "I was surprised by the level of credibility I had as a medical student. I received many looks while walking around wearing my white coat, and it seemed as though the staffers wanted to hear what I had to say."
Ragavan hopes to use her combined public health and medical degrees to pursue a career as a family practitioner in an underserved setting. While Song is less sure about the field of medicine he will follow, he does know that health equity advocacy and health disparities research will be important aspects of his future career.
"HELI confirmed for me that health equity is a bona fide public health passion of mine," says Song. "I now feel prepared to go into a community, understand their concerns, and propose methods to help them act on their own behalf."
The Feinberg Office of Minority and Cultural Affairs (OMCA) provided Song with the funds to attend HELI and gain these additional skills in advocacy and community organization. The OMCA offers funding to Feinberg students to participate in initiatives that support and build diversity and inclusion at the medical school.
"Funding requests must adequately address how the activity, conference or event relates to minority health, health disparities, career development for underrepresented groups in medicine, diversity, and/or social justice, and how the support will contribute to diversity at Feinberg," says Sunny Gibson, MSW, director of the OMCA. "We offered support for Shuo because the mission of HELI focuses on increasing health equity and eliminating health disparities."
Song, who has worked with OMCA on other programs, like the Health Professions Recruitment and Exposure Program and the Medical Explorers Program, is grateful to the OMCA for supporting his experience.
"Not everyone who applies to HELI is selected to attend, so I thought it was great that two of our students were chosen from a national pool," Gibson says.
In addition to individual funding, the OMCA also offers group funding. In fact, the OMCA supports many student-driven initiatives such as Health Disparities Week, Camp Wildcat, and Alternative Spring Break, where medical students travel to the Cheyenne River Sioux reservation in South Dakota to work with Native American youth. The OMCA also sponsors a Friday film series once a month, featuring films that focus on social justice or diversity.