Founders' Day Kicks Off 2009 Academic Year
Dean J. Larry Jameson, MD, PhD welcomes the Class of 2013.
As the fierce debate on health care reform rages on around the country, the Feinberg School of Medicine's Founders' Day Convocation not only welcomed the Class of 2013 to the official opening of the academic year on August 28, but also gave them a feeling for how they will help to shape the delivery of patient care in the future. Fittingly, one of the movers and shakers in health care reform, Stephen L. Ondra, MD, gave the 2009 Founders' Day address. In May, President Obama appointed Dr. Ondra to the position of senior policy advisor for health affairs in the Department of Veterans Affairs.
Until very recently, Dr. Ondra was professor of neurological surgery at Northwestern, where he served as vice chair and residency program director for his department during his more than decade-long tenure, according to Dean Larry Jameson.
"Dr. Ondra is now engaged in one of the most important health care policymaking endeavors in this country's history," said Dr. Jameson in his introduction of the keynote speaker. "While we miss him here and his expertise in neurosurgery, we are proud in having one of our own play a role in this effort."
Offering his perspective on how health care reform will affect the profession of medicine, Dr. Ondra first let the "numbers" speak for the need for change.
"While our health care system has served us well for many years…it is also widely recognized that this system is in trouble economically. It's unsustainable. Our country spends over 17 percent of its gross domestic product on health care. That's over $2 trillion a year and almost 50 percent more than any other developed nation. It is estimated that by the year 2015—before you, the Class of 2013, end your residency training—costs will rise to $4 trillion a year."
While the cost of health care is cause for concern, the real issue comes down not to "dollars and cents" but to the care of real people, according to Dr. Ondra. Proud of the accomplishments of his profession, Dr. Ondra also acknowledged that despite our country's leadership in health care, especially in highly technical and medical specialty programs, the United States lags behind in serving its people.
With reform a seemingly inevitable consequence of the current health care system's shortcomings, Dr. Ondra stressed the need to embrace change with creativity and innovation. He pointed to the use of information technology to improve patient record keeping as one successful avenue for enhancing safety and effectiveness and, ultimately, patient care. For this country's medical professionals, including the new entering class, health care reform will hopefully improve the efficiency and quality of accessible and affordable health care to all Americans.
Dr. Ondra concluded by encouraging the Feinberg School's newest students to have the courage to be leaders in health care reform.
"This is your time, Class of 2103, to rise to [the]occasion and be part of the transformation that will bring this country the health system it needs and deserves," he said.
The Founders' Day event also provided an opportunity to introduce the new president-elect of the University, Morton Schapiro, PhD, who officially started his duties as president September 1. Dr. Schapiro congratulated the members of the Class of 2013 on achieving yet another step in their dreams to becoming physicians.
"This is a tremendous opportunity; enjoy yourselves," he said. "[Medical school] is not something you have to get through or another obstacle or burden. So enjoy every memory. Enjoy the camaraderie. Enjoy the mentorship. This is the first day of your path to becoming doctors. It begins today. Enjoy it!"

Six faculty members were recognized with outstanding teaching awards during the Founders' Day event.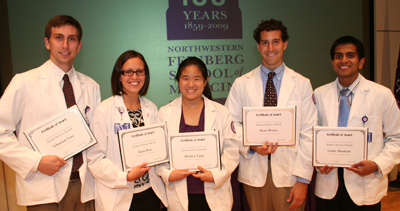 The M2 Student Senate presented five students with service awards as part of the ceremony.
Several outstanding teachers selected by the Feinberg School's leadership as well as by medical student votes were acknowledged at the convocation. The Dean's Award for Teaching Excellence went to Irwin Benuck, MD '79, PhD, professor of clinical pediatrics; Gregory E. Brisson, MD, GME '94, assistant professor of clinical medicine; Tod S. Chambers, PhD, associate professor of medical humanities and bioethics; George R. Flouret, PhD, professor of physiology; Joshua M. Hauser, MD, GME '07, assistant professor of medicine; Amy V. Kontrick, MD, assistant professor of emergency medicine; and James H. Sipkins, MD, GME '82, assistant professor of clinical medicine.
The George H. Joost Outstanding Teacher Awards went to Randolph P. Perkins, PhD, assistant professor emeritus of physical therapy and human movement sciences; Andrea Baumgartner, MD, assistant professor of clinical medicine; Thomas C. Corbridge, MD, professor of medicine; and Robert F. Kushner, MD, GME '82, professor of medicine. Brian C. Boholst, MD '99, instructor in clinical medicine, received the Michael M. Ravitch Outstanding Teacher Award. Medical students Robin Skory and Sarah Rodriguez presented the 2009 American Medical Women's Association/Gender Equity Award to Teresa K. Woodruff, PhD, professor of obstetrics and gynecology.
Darren Boyd, president of the Medical Student Senate and a member of the Class of 2011, concluded the Founders' Day Convocation by presenting M2 Student Senate Service Awards to Gathi Abraham, Anna Banc, Ryan Brown, Sebastian Lara, and Monica Tang. Boyd then led the white coat ceremony. He advised the Class of 2013 to use their new white coats as a "license to learn" and invited them—with the assistance of their second-year student buddies—to don the first symbol of their entrance into the profession of medicine.