Dr. Taiwo Stands Out Among Young Investigators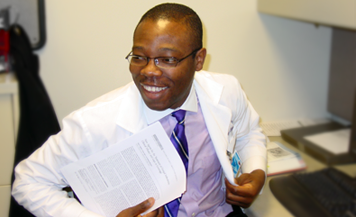 Dr. Taiwo
Babafemi Taiwo, MBBS, is the recipient of the 2009 John Carey Young Investigator Award presented at the recent AIDS Clinical Trial Group (ACTG) Network meeting in Washington, D.C. The award was established to recognize junior investigators who best exemplify the ideals of the ACTG and the qualities exemplified by Dr. Carey, one of the first physicians nationally to treat AIDS patients.
"This is a highly significant award," notes Robert Murphy, MD, professor of medicine and director of the Center for Global Health. "Other awardees have all gone on to very productive academic careers making this award an excellent marker for a positive career track."
Dr. Taiwo is director for African research for the Feinberg School's Center for Global Health, where he focuses on HIV research and related problems such a hepatitis, tuberculosis, and malaria. He works with Dr. Murphy on the medical school's two HIV research-related grants, the Fogarty and PEPFAR. A native of Nigeria, Dr. Taiwo began his career at Northwestern five years ago as a fellow in infectious diseases and is now an assistant professor of medicine in the division of infectious diseases
Awardees have made significant contributions to the advancement of knowledge about HIV and its complications in the clinic or the laboratory in ACTG-sponsored research; through participation on ACTG committees or protocol teams, demonstrated a cooperative spirit with colleagues and commitment to service; and have shown intellectual promise and commitment to advance to a leadership position within the ACTG.