Dean Jameson Honored for Endocrinology Contributions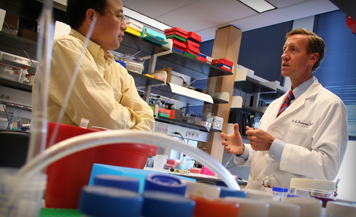 (R) Dr. J. Larry Jameson
J. Larry Jameson, MD, PhD, Vice President for Medical Affairs and Lewis Landsberg Dean of the Feinberg School, has received the Fred Conrad Koch Award, the highest honor bestowed by The Endocrine Society in recognition of exceptional contributions to endocrinology.
In bestowing the honor, The Endocrine Society notes that Dr. Jameson described the first mutations in several key regulators of reproduction, including LH, FSH, and SF1. He established the role of DAX1 in sex determination and helped unravel how mutant thyroid hormone receptors cause thyroid hormone resistance.
The standard bearer for molecular medicine in the field of endocrinology, Dr. Jameson is co-editor of the fourth and the fifth editions of the authoritative text, DeGroot and Jameson's Endocrinology. His book Principles of Molecular Medicine received the Best Health Science Book of 1998 award. He has served as an editor for the 15th and 16th editions of Harrison's, Principles of Internal Medicine and is an editor of Harrison's Online.
He has published more than 250 scientific articles, including reports in journals such as the New England Journal of Medicine, Nature Genetics, Science, and the Journal of Clinical Investigation, as well as several specialty journals in endocrinology.
Dr. Jameson has been elected to the American Academy of Arts and Sciences, the oldest learned society in academia, and the Institute of Medicine, established by the National Academy of Sciences to honor professional achievement in the health sciences. He also has served as president of The Endocrine Society and has been elected to the American Society of Clinical Investigation and the Association of American Physicians. He also has been the recipient of several other awards, including the Oppenheimer Award from the Endocrine Society and the Van Meter Award from the American Thyroid Association, and has served as a visiting lecturer at leading institutions around the world.
After receiving his MD and PhD degrees in 1981 from the University of North Carolina, he went on to Massachusetts General Hospital in Boston for clinical training in internal medicine. He rose through the faculty ranks at the Harvard Medical School to become associate professor of medicine and chief of the Thyroid Unit at the Massachusetts General Hospital before moving to Northwestern in 1993. Dr. Jameson joined the Feinberg faculty as chief of the division of endocrinology, metabolism and molecular medicine. In 2000, he became chair of the department of medicine.
Founded in 1916, The Endocrine Society is the world's oldest, largest and most active organization devoted to research on hormones and the clinical practice of endocrinology. Today, The Endocrine Society's membership consists of more than 14,000 scientists, physicians, educators, nurses and students in more than 100 countries. Society members represent all basic, applied and clinical interests in endocrinology.