Real Men Get Sick…and Better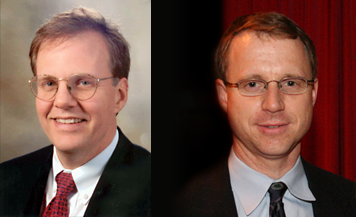 (l to r) Drs. McVary and Brannigan
Under the leadership of Kevin McVary, MD, and Robert Brannigan, MD, the Men's Health Initiative at the Feinberg School of Medicine will explore the wide range of diseases and disorders that affect men's health. Gender differences play respectively vital roles in facets ranging from heart disease and bone loss to benign and malignant tumors of the reproductive systems.
Expanding upon the nationally ranked urology program and preeminent faculty-knowledge of prostate biology, urologic infectious diseases, sexual dysfunction, and clinical outcomes, the Men's Health Initiative will conduct new and innovative research to translate findings into new hope for patients while educating future generations of medical specialists.
In addition to educational programs emphasizing preventative care, the institute will partner with the Institute for Women's Health Research and its executive director, Teresa Woodruff, PhD, to lead explorations into oncofertility issues for prostate cancer survivors. An oncofertility pioneer, Dr. Woodruff will contribute vast expertise to assist Drs. McVary and Brannigan in addressing the number one survivorship concern among young cancer patients—fertility preservation. By removing traditional boundaries, the Men's Health Initiative at Northwestern University will bring together physician-researchers who are dedicated to encouraging real American men to brave the stethoscope, be engaged, and improve their health.
Kevin McVary, MD, is a professor in the Department of Urology, and Robert Brannigan, MD, is an associate professor in the Department of Urology at Northwestern University Feinberg School of Medicine.