WGN Radio Talks with Alum/Astronaut Michael Barratt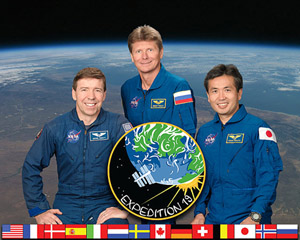 Cosmonaut Gennady Padalka, Expedition 19 commander (center), NASA astronaut Michael Barratt (left), and Japan Aerospace Exploration Agency astronaut Koichi Wakata
With the purple and white sesquicentennial banner tucked away in his official flight kit, Feinberg School alum Michael Barratt, MD, and Expedition 19 crewmates arrived safely aboard the International Space Station (ISS) on March 28.
In a letter to Dean J. Larry Jameson, MD, PhD, Dr. Barratt asked for the banner as a memento of his years as a medical student at Northwestern.
Barratt received his MD from the Feinberg School in 1985 and completed a three-year residency in internal medicine in 1988 and chief residency year in 1989.
Listen to April 21st WGN Radio's interview with Dr. Barratt and fellow astronaut Koichi Wakata from the International Space Station.
And don't forget to wish Dr. Barratt a happy birthday compliments of NASA!