Dr. Vassar Receives Prize for Alzheimer's Research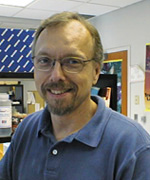 Dr. Robert Vassar
Robert J. Vassar, PhD, professor of cell and molecular biology at Northwestern University's Feinberg School of Medicine, has received the Potamkin Prize for Research in Pick's, Alzheimer's and Related Diseases from the American Academy of Neurology (AAN).
Dr. Vassar and two other researchers will each receive a $33,000 cash award. The Potamkin Prize is made possible through the Potamkin Family and is given in recognition of outstanding achievements in research on Alzheimer's and related neurodegenerative diseases. He will be presented with the award during the AAN's annual meeting in Seattle, held April 25 through May 2.
In Dr. Vassar's most recent work, he discovered a slow, chronic starvation of the brain as we age appears to be one of the major triggers of a biochemical process that causes some forms of Alzheimer's disease. He found when the brain doesn't get enough sugar glucose—as might occur when cardiovascular disease restricts the blood flow in arteries to the brain—a process is launched that ultimately produces the sticky clumps of protein that appear to be a cause of Alzheimer's.
Dr. Vassar discovered a key brain protein is altered when the brain has a deficient supply of energy. The altered protein, called eIF2alpha, increases the production of an enzyme that, in turn, flips a switch to produce the sticky protein clumps. Vassar worked with human and mice brains in his research.
The finding was significant because it suggests that improving blood flow to the brain might be an effective therapeutic approach to prevent or treat Alzheimer's.
Dr. Vassar's previous work includes innovative explorations that could lead to gene therapy for the treatment of Alzheimer's. He and his colleagues at Northwestern are looking at whether RNA-interference of the beta-secretase enzyme known as BACE1 in adult mice can be used to reduce plaque levels. They have already shown that genetic deletion of BACE1 prevents amyloid beta-dependent memory deficits, brain cell loss, and plaques in mice.
Ten years ago, it was Dr. Vassar who discovered the enzyme, BACE1, that was responsible for making the sticky clumps of protein that form outside neurons and disrupt their ability to send messages.