New Model for Stem Cell Memory and Plasticity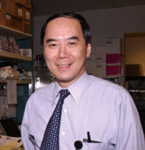 Dr. William Tse
How does a human cell remember its past and decide its future? This is a six-million dollar question that biomedical researchers have long sought to answer in their attempts to control cell fate and develop better cellular therapy.
Working with human bone marrow stem cells that can turn into bone or muscle, researchers at Children's Memorial Research Center led by William T. Tse, MD, PhD, assistant professor of pediatrics at the Feinberg School, have recently demonstrated how these cells juggle decision-making processes that determine their fate. The group found that stem cells respond to environmental stimulation by producing bone– or muscle–forming factors.
Similar to an on/off light switch, the cells control their fate with a "bistable switch" mechanism that reveals important concepts in stem cell memory and plasticity. Further understanding these concepts may help researchers discover critical developmental genes that can be applied to cell fate control and cellular therapies.
Funded by the Illinois Regenerative Medicine Institute, the Dr. Ralph and Marian C. Falk Medical Research Trust, and the North Suburban Medical Research Junior Board, the research was published in the April 6, 2009 online issue of the Proceedings of the National Academy of Sciences of the United States of America.