PAD Study Challenges Traditional Thinking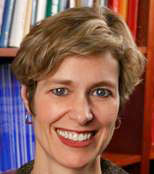 Dr. Mary McDermott
A recent study by a Feinberg School researcher challenges traditional thinking about what should be considered a normal score for an ankle-brachial index (ABI), a simple test used to diagnose peripheral artery disease. Furthermore the data suggest that even those with a borderline or low normal ABI are at risk for mobility loss such as walking up a flight of stairs or walking unassisted for one-quarter of a mile.
The study by Mary M. McDermott, MD, professor of medicine at the Feinberg School of Medicine and a physician at Northwestern Medical Faculty Foundation, was published in the March 25 issue of the Journal of the American College of Cardiology. It followed 666 men and women for five years. Of the total number, 412 had been diagnosed with peripheral artery disease (PAD), a common circulatory problem in which narrowed arteries reduce blood flow to the limbs. Patients with PAD, defined as an ABI < 0.90, are at an increased risk for heart disease and stroke. Participants with PAD, as well as those with a borderline or normal ABI value, were at increased risk for mobility loss at five-year follow-up.
"This study really underscores the importance of using the ABI index to screen for this condition, which most physicians don't do," she said, adding that although the test is non-invasive and simple to administer, it takes time—about 10 to 15 minutes—putting a busy primary care practice off schedule. While PAD is rare in patients in their 30s and 40s, anyone who is diabetic, who has smoked for five years or more, or who is over the age of 70 is at increased risk for PAD, said Dr. McDermott.
Ankle-brachial index is the ratio of systolic blood pressure at the ankle compared to that in the arm. In people without any blockages in their leg arteries, the ankle pressure should be higher than the arm pressure by about 10 percent, says Dr. McDermott. An indicator of a significant blockage is when the ratio drops to the point where the ankle pressure is 10 percent or more less than the arm pressure. Although the traditional threshold for PAD is defined as an ABI < 0.90, the study indicates that even patients with ABI values of 0.90 to 0.99 or 1.00 to 1.09 are at increased risk of mobility loss. Findings support the concept that a truly normal ratio is 1.10 to 1.30.
"Some populations studies have shown that if you screen all comers off the street who are 65 and older, the prevalence is about 12–15 percent," she said. "If you screen people 80 years old or older, it's about 20 percent—the older the individual, the greater the likelihood."
The study also looked at people who had an ABI between 1.0 and 1.09 (low normal) and .9 and .99 (borderline) and found that they did not display typical symptoms of PAD, reinforcing the need for a routine ABI.