Healthy for You, Healthy for 2
New program for obese pregnant women offers tailor-made plan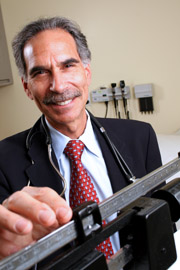 Dr. Robert Kushner
The Northwestern Comprehensive Center on Obesity is tackling the growing health problem of obesity during pregnancy with a unique program. A team of health professionals—a physician, dietitian, exercise physiologist, and clinical psychologist—will help pregnant women develop better nutrition for optimal weight gain, counsel them on how to increase physical activity, and offer psychological counseling to develop strategies for a healthier pregnancy. Each woman will have a program tailored to her individual needs.
There will be a special emphasis on treating low-income minority women, who have the highest prevalence of obesity in pregnancy. The Northwestern program has a grant to provide care to these underserved women.
The new program—Healthy for You, Healthy for 2—is available to women who plan to give birth at Northwestern Memorial's Prentice Women's Hospital. The obesity pregnancy program is a project of Northwestern University, Northwestern Memorial Hospital, and Northwestern Medical Faculty Foundation.
"Pregnant women have always been hands off," said Robert Kushner, MD, clinical director of the Northwestern Comprehensive Center on Obesity and professor of medicine at the Feinberg School. "People have always been afraid to intervene in pregnancy because you may do harm. What we are finding is by doing nothing, we are probably doing more harm."
New evidence indicates that a woman's excessive weight gain during pregnancy affects the intrauterine environment and turns on certain genes in the fetus that can result in childhood obesity and diabetes, said Alan Peaceman, MD, codirector of the obesity in pregnancy program.
"It's not just that the kids gain weight because they acquire the eating habits of their parents and sit in front of the TV, but their risk for obesity is programmed before they are born," said Dr. Peaceman, a professor of obstetrics and gynecology and chief of maternal-fetal medicine at the Feinberg School and Northwestern Memorial Hospital.
"Obesity in pregnancy may be contributing to the epidemic of childhood obesity and diabetes that we are seeing today," Dr. Peaceman said.
The prevalence of obese women of child-bearing age is rising. An estimated 23.6 percent of women ages 18 to 44 in the United States were obese in 2007 compared to 14.5 percent in 1997, according to the March of Dimes Perinatal Data Center and the Behavioral Risk Factor Surveillance System of the Centers for Disease Control.
In Illinois, 21.4 percent of women, ages 18-44, are obese. Black women in this age group have the highest rate of obesity at 36.8 percent followed by Hispanic and Latino women at 24.7 percent, according to 2007 statistics from the Illinois Department of Public Health. Obesity is defined as having a Body Mass Index (BMI), a measure based on a person's height and weight, of 30 or higher.