Goldman Lab Continues Landmark Progeria Research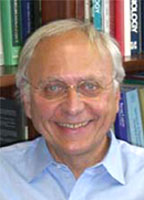 Dr. Robert Goldman
Robert Goldman, PhD, Stephen Walter Ranson Professor of Cell Biology and chair of the Department of Cell and Molecular Biology, is well known for his pioneering research into the structure and function of the nuclear lamins, one subgroup of the large family of intermediate filament proteins. Recently, mutations in the gene encoding one of these proteins, nuclear lamin A, have been identified as causative factors in a wide range of human diseases. The latest tally shows that there are more than 300 mutations in the lamin A gene, leading to a wide range of diseases, including Hutchinson-Gilford Progeria Syndrome, or progeria, a rare aging disease of children that affects about 1 in 4 million.
Dr. Goldman and his coinvestigators have previously shown that progeria mutations in the lamin A gene interfere with key regulators of gene expression and the cell cycle. Now, Dr. Goldman and researchers at the Feinberg School, the Institute of Human Genetics in Munich, and the Laboratory of Supramolecular Biophysics in Hokkaido, Japan have provided new insights into the mechanisms responsible for lamin functions. Their study, "The A- and B-Type Nuclear Lamin Networks: Microdomains Involved in Chromatin Organization and Transcription," was published in the December 15 issue of Genes and Development. In this article, Dr. Goldman et al explain that nuclear lamins normally function in the regulation of transcription and epigenetic modifications of chromatin, noting that the mechanisms responsible for these lamin functions are poorly understood. Their research demonstrates that A- and B-type lamins form separate but interacting stable meshworks in the lamina and have different mobilities in the nucleoplasm. They conclude that in normal cells, the meshworks of A-type and B-type lamins provide functionally different microenvironments whose coordinated activities finely tune the regulation of gene expression. These findings could have important implications for understanding progeria and a host of other laminopathies.
Dr. Goldman's studies have been instrumental in developing clinical trials that offer hope to children with progeria. Dr. Goldman and others have shown that the posttranslational processing of lamin A is required for its normal functions in nuclei. One of these changes involves farnesylation of the C-terminal CAAX box, an important step in the targeting of lamin A to the membrane of the nucleus. Under normal conditions, this farnesylation site is removed to form mature lamin A so that it is properly incorporated into the nuclear lamina. However, the mutant protein, progerin, becomes permanently farnesylated and so appears to be the major causative factor in this disease. This basic knowledge has led to the rapid implementation of a drug trial employing a farnesyl transferase inhibitor, lonafarnib. Since the mutation in the gene causing progeria was only discovered in 2003, this represents an unusually rapid transition from the lab bench to the bedside and demonstrates the enormous importance of basic biomedical research. Had the information produced by the Goldman lab and several others worldwide not been available when the disease gene was discovered, implementation of drug trials would have been delayed by many years, perhaps even decades.