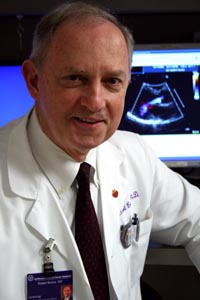 Robert O. Bonow, MD, has been named the recipient of the 2009 John Phillips Memorial Award of the American College of Physicians (ACP).
"The John Phillips Award is one of the most prestigious in internal medicine and could not go to a more deserving candidate," said James J. Foody, MD, professor of medicine, vice chair for clinical affairs in the Department of Medicine, and governor of the ACP's Illinois Northern chapter.
The John Phillips Memorial Award was established by the ACP's Board of Regents on October 27, 1929. The award honors Dr. Phillips, a governor and regent of the ACP, who died in a fire at the Cleveland Clinic. The award recognizes outstanding work in all phases of clinical research or practice of medicine.
A faculty member at Northwestern since 1992, Dr. Bonow is the Max and Lilly Goldberg Distinguished Professor of Cardiology at the Feinberg School of Medicine, chief of the Division of Cardiology, and codirector of Northwestern Memorial Hospital's Bluhm Cardiovascular Institute. He is renowned for his research and teaching in various areas of cardiology, including coronary artery disease, valvular heart disease, and heart failure. He has authored or coauthored more than 380 published papers, serves on the editorial boards of 11 medical journals, and is one of the four principal editors of the seventh and eighth editions of Braunwald's Heart Disease: A Textbook of Cardiovascular Medicine.
Dr. Bonow's national leadership includes serving as president of the American Heart Association (AHA) in 2002-€"03 and chairing the committee that developed the American College of Cardiology (ACC)/AHA Guidelines for the Management of Patients with Valvular Heart Disease in 1998 and 2006. He is currently chair of the ACC/AHA Task Force on Performance Measures. Among his honors are the National Institutes of Health Director's Award, the U.S. Public Health Service Commendation Medal and Outstanding Service Medal, and elected membership in the American Society for Clinical Investigation and the Association of American Physicians. Awards from the AHA include the Distinguished Leadership Award (2003), Distinguished Achievement Award (2005), and Gold Heart Award (2007). The ACC also recognized his work with the Distinguished Fellowship Award (2000) and Distinguished Service Award (2006). Dr. Bonow is listed in Who's Who in America, Who's Who in American Education, the Best Doctors in America, "The Top Cardiologists" by Chicago Magazine, and the "Country's Best Doctors" by Good Housekeeping.