Faculty Members Honor One of Their Own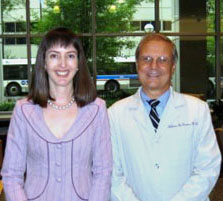 (L to R) Dr. Melina Kibbe and Dr. William Pearce
William Pearce, MD, has the distinction and honor of being named the inaugural Faculty Mentor of the Year for 2008 by the Medical Faculty Senate Council (MFSC). The MFSC comprises a representative from each department at the Feinberg School. Eighteen faculty members from departments across the medical school were nominated. This award recognizes Dr. Pearce as a leader and advisor who has demonstrated a deep commitment to fostering the professional growth and development of junior faculty members.
Dr. Pearce, Violet R. and Charles A. Baldwin Professor of Vascular Surgery and chief of the Division of Vascular Surgery, has mentored hundreds of students, residents, fellows, and junior faculty members during his 20 years on the Feinberg School faculty. "This is just part of what you do," he said. "This is why I went into academic medicine—to have a broader impact than just helping patients."
"There's a 'paying forward' aspect to this too," he added. "I'm paying back the people who mentored me." He includes Feinberg School physicians James Yao, MD, professor emeritus of vascular surgery; John Bergan, MD; David Green, MD, PhD, professor emeritus of medicine; and James Webster, MD, professor of medicine, as his guides.
Mentoring is singularly important for the success of the junior faculty members, said William Lowe Jr., MD, professor of medicine and dean for faculty affairs, who presented the award on behalf of the MFSC at a reception in September. He emphasized that while the Feinberg School is committed to hiring the best and brightest new faculty, much of their success is dependent upon more senior faculty members helping to guide them.
"Having worked with Dr. Pearce in the past and heard about some of his efforts to create new career development opportunities nationally as well as locally for junior faculty, I was delighted that he was the winner of the first award," Dr. Lowe said.
Dr. Pearce has been working with the Society for Vascular Surgery for the past seven years to raise money for matching grants that offer young faculty members protected time for research and an incentive to go into science, he said.
One recipient of such a grant is Melina Kibbe, MD, ­­­­­­­associate professor of surgery, who nominated Dr. Pearce for the award. "I thought of him the minute I heard about the nominations," she said. "He fit all the requirements—and then some."
"Dr. Pearce really cares about the individuals he mentors—not just about their career development, but he really cares about their well being in general," she added. "I would not be doing what I am doing without his support."
"To date, I have not met anyone else like Dr. Pearce," said Dr. Kibbe. "And, everyday, I aspire to be like him and mentor others the way he mentors me."