New Obesity Center Includes Clinical Care, Research, and Education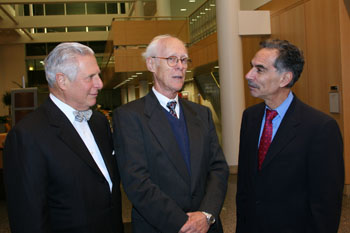 (L to R) Drs. Lewis Landsberg, George Bray, and Robert Kushner
The opening of the Northwestern Comprehensive Center on Obesity (NCCO) was celebrated by more than 200 members of the Feinberg School community, who packed the Hughes Auditorium of the Robert H. Lurie Medical Research Center on November 13 to learn more about the new undertaking.
Center director Lewis Landsberg, MD, Irving S. Cutter Professor of Medicine and dean emeritus of the Feinberg School, welcomed guests and succinctly told them the reason for the center. "Obesity is, I believe, the major epidemic of our time," he said. "It's a multi-faceted problem with many root causes: biological, evolutionary, psychological, sociological, economic, and political," he noted. "Addressing all of these factors requires the resources of a great university."
The center will tap the professional resources of Feinberg School faculty members as well as those associated with Northwestern Medical Faculty Foundation and Northwestern Memorial Hospital. Robert Kushner, MD, professor of medicine and NCCO's clinical care director noted that the center will focus on weight management, bariatric surgery, non-alcoholic fatty liver disease, and obesity in pregnancy.
Healthy for You, Healthy for 2 is a special offering for pregnant overweight women who stand the risk of having complicated pregnancies due to being overweight. Studies have shown that both obesity and excessive weight gain by the mother can adversely affect the health of the offspring in later life. The team-based clinical care will include the expertise of physicians, dietitians, clinical psychologists, exercise physiologist, and most importantly, the mother in the role of self manager.
In addition to clinical care, NCCO will integrate and collaborate with researchers. "I don't think there's a single specialty in this entire medical center that isn't touched in one way or another by obesity as a causal factor or a factor that worsens the patient's health," said Dr. Kushner.
Other NCCO leaders who spoke at the event were research director Franck Mauvais-Jarvis, MD, PhD, associate professor of medicine; director of the childhood obesity program Katherine Kaufer Christoffel, MD, MPH, professor of pediatrics and of preventive medicine; James Young, MD, professor of medicine; Boyd Metzger, MD, Tom D. Spies Professor of Metabolism and Nutrition; and Andrea Dunaif, MD, Charles F. Kettering Professor of Medicine.
In the inaugural address of the center's planned lecture series, guest speaker George Bray, MD, a renowned expert in the field of obesity, presented "Obesity—Past, Present, and Future," which focused on evidence of obesity in the Stone Age to weight loss theories of the 1800s to the future where an understanding of genetic makeup will play a crucial role.