Obesity Center Director Offers Health and Wellness Tips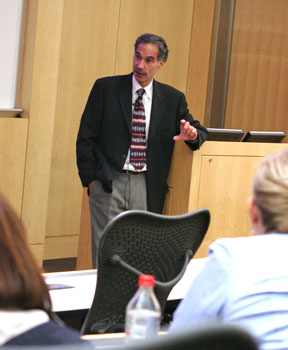 Dr. Kushner offers insight into enhancing personal health and wellness at the University's 2008 Health & Benefits Fair.
Will power isn't the key to losing weight and living a healthy lifestyle, says Robert Kushner, MD, professor of medicine at the Feinberg School. Instead, the clinical director of the Northwestern Comprehensive Center on Obesity (NCCO) and director for the Center for Lifestyle Medicine, recommends understanding how your environment shapes your behavior—and then taking small planned steps to control your own choices.
"People need to understand the barriers and push back," he said in his talk, "Enhancing Personal Health and Wellness" presented to the Feinberg School staff as part of the University's Health & Benefits Fair on October 14.
To hear Dr. Kushner's address, click here.
According to the U.S. government, only 3 percent of the population adheres to all four of the following health behaviors: no smoking, maintaining a healthy weight, eating five servings of fruits and vegetables daily, and regular exercise.
Dr. Kushner maintains that this low number has nothing to do with a person's motivation and everything to do with a society that favors large portions, modern conveniences, such as Segway scooters, and TV watching. "Everything is about efficiency and burning fewer calories," he adds. "Obesity is an unintended consequence of modern living."
Although individuals might not be able to change society, they can take responsibility for themselves and their own lifestyle choices by actions such as paying attention to the kind of food they purchase, by thinking ahead about food choices before entering a fast food restaurant, or by being a leader among friends and family by suggesting active rather than sedentary pastimes.
Dr. Kushner suggested the following general behaviors to get started.
Quit smoking. Set a quit date, clear your environment of temptations, and use aids, such as gum and patches.
Choose a healthy diet. Downsize portions; order appetizers instead of entrees; add fruits and vegetables at each meal and for snacks; reduce unhealthy fats and oils; add whole grain foods; and read food labels. (If losing weight is your goal, check the portion size and calories.)
Be physically active. Take the stairs; park far away from your destination; walk to work rather than drive. Remember that physical activity, such as the examples listed, is different than exercise, which is a planned, repetitive, and structured activity—such as going on a walk or taking a cardio class.
While the publication, Dietary Guidelines for Healthy Americans 2005, recommends 60 to 90 minutes of moderate-intensity activity every day, Dr. Kushner reminded the group that all movement counts. "The more calories you burn, the healthier you are," he said.
Be advised, too, of the benefits of keeping a food and exercise journal to maintain accountability, he added. And start out with small changes rather than grandiose ones that are difficult to maintain.
For more information on NCCO, contact Dr. Kushner at 312-503-6817 or the center's registered dietitian, Anne Leavell, at aleavell@nmff.org.