Silverstein Series Welcomes Bioengineering Pioneer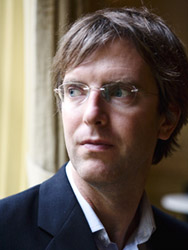 Drew Endy, PhD
Drew Endy, PhD, a pioneer in the field of bioengineering, will deliver a free lecture, "Building a New Biology," in Evanston on Monday October 27 and in Chicago on Tuesday October 28.
The lecture will explore the powerful new technologies that allow researchers to design DNA and construct organisms to perform certain functions. These new, engineered organisms are being created to help cure cancer, produce renewable energy, and assemble living computers. Teenagers can now learn to program DNA just as they learn to program computers. But who will control these new biotechnologies? What good and bad possibilities seem likely to come true?
Dr. Endy will discuss the science behind this new biology and the many factors that must be considered as research progresses, from practical issues like patents and copyrights, to the weighty implications of essentially creating life.
A light reception will begin at 6:30 p.m., followed by Dr. Endy's lecture at 7 p.m. The Evanston event will take place at the McCormick Tribune Center, 1870 Campus Drive. The Chicago event will take place in the Hughes Auditorium at the Robert H. Lurie Medical Research Center, 303 E. Superior St. No tickets are required.
These events are part of the Center for Genetic Medicine's Silverstein Lecture Series, designed to bring advances in genetics research and medicine to the general public. Funding for the Silverstein Lecture Series is provided by the Herman M. and Bea L. Silverstein Medical Research Fund for Genetic Medicine.
For more information, please visit the Center for Genetic Medicine's website, www.cgm.northwestern.edu, or call 312-503-5600.