Many Adults Who Survived Childhood Cancer Face Toxic Boomerang From Their Treatment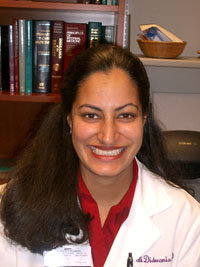 Dr. Aarati Didwania
The women at the spa party swapped personal histories as their fingernails and toenails were painted hot pink or bright red. But their conversations were not about where they worked or how many kids they had.
They talked about the one thing they all shared that made them members of an "exclusive" but growing club. Each had survived cancer as a child. And each was now confronting the toxic kickback from the chemotherapy and radiation that had saved their lives decades earlier.
Because of their cancer treatment as children, as adults they now faced the threat of early heart attacks from hearts weakened by chemotherapy, early breast and other second cancers, brain tumors, fragile bones, depression, anxiety, and other health problems.
Many at the party were patients at the STAR (Survivors Taking Action & Responsibility) program at the Robert H. Lurie Comprehensive Cancer Center of Northwestern University. It is one of only four programs in the country that focuses on comprehensive health care of adults who are survivors of childhood cancer. The party was one way STAR connects them so they feel less isolated with their health challenges.
One in about 300 children between birth and age 20 will be diagnosed with cancer. The cure rate for children with cancer has climbed to 85 percent and, for some cancers, it may soon reach 90 percent. But when these children grow up, recent research shows two-thirds of them will experience at least one late health consequence as a result of their earlier treatment.
Most childhood survivors and their internists, however, are unaware of the looming health risks. "My previous internist wasn't trained to help me as a survivor," said Julia Stepenske, 34, a nurse from Elmhurst, who has an enlarged, weakened heart caused by cancer treatment for lymphoma when she was 15.
"I was adrift out there. The STAR program helped save my life," said Stepenske, whose lymphoma returned earlier this year when she was 32 weeks pregnant.
"A lot of young adults think 'I survived cancer. That happened to me when I was a kid, and I've moved on,'" said Aarati Didwania, MD, who directs the STAR program. "They don't think about the treatment they got when they were young and how it could have affected them."
But Dr. Didwania thinks about it plenty, and tenaciously tracks down patients' health records from 10, 20, 30, or more years ago. She combs through their charts to see the types and precise dosage of drugs and radiation they received. These details foretell the health problems that likely lie ahead and the screenings and checks patients need to protect them.
"The effects get worse with time," said Dr. Didwania, an assistant professor of medicine at the Feinberg School and a physician at Northwestern Memorial Hospital. "The further out patients get from their treatment, the more likely they are to develop late effects."
A child with Hodgkin's disease who had radiation to her chest is at risk for skin cancer, thyroid cancer, and breast cancer as an adult.
Dr. Didwania starts screening these women in their 20s—twenty years earlier than the general population—for breast cancer with yearly mammograms and MRIs. The MRI, which offers improved sensitivity to tumors in the dense breast tissue of young women, is critical. One 28-year-old woman with a normal mammogram was subsequently diagnosed with stage 1 breast cancer after an MRI.
Total body radiation as a child or a particular chemotherapy drug puts a young adult at high risk for fragile bones or osteopenia. A 17-year-old patient at STAR recently had a bone density scan, a screening normally recommended for women when they are 45 or 50 years old.
Research in 2008 from the American Society of Clinical Oncology showed that childhood survivors have a 5 to 10 times greater risk than their healthy siblings of developing heart disease in early adulthood.
One class of chemotherapy drugs, anthracyclines, can be toxic to children's developing hearts, causing heart failure and enlarged hearts in adults. As a result, these young adults need echocardiograms to see how much blood their hearts are pumping. They also must eat a low-salt diet and aren't allowed to lift weights.
In addition to the physical problems, adults may suffer from depression, insomnia, and anxiety. Because of their time away from school during cancer therapy, some survivors missed dating or even maintaining close friendships, noted Lynn Wagner, a clinical psychologist at STAR.
"We help them learn the social skills they may have missed when they were sick," said Wagner, an associate professor in psychiatry and behavioral sciences at the Feinberg School.
Despite the vast medical and psychosocial needs of these adult patients, a study by Karen Kinahan, a clinical nurse specialist in pediatric oncology and one of the founders of STAR, found that many adults who are childhood survivors of cancer still see their pediatric oncologists for follow-up care. There are few programs to meet the needs of this specialized population of adult survivors.
Stepenske, who now is a stem cell transplant nurse at Children's Memorial Hospital and runs a foundation, SurvivorVision, recalls what it was like before the STAR program began.
"You are too big to lay on the pediatric table and you are getting to the point where you have adult questions," said Stepenske, whose lymphoma is now in remission and who has two daughters, one six months and one who is three. "You're at a different phase in your life, but you were talking to a pediatric specialist about adult issues. We were a population of patients that had nowhere to go. And now we do."
—Marla Paul