FSM Opens Nikon Imaging Center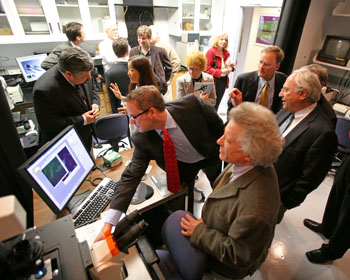 Faculty, staff, and students attending the grand opening tour the new Nikon-Northwestern Cell Imaging Facility.
The Feinberg School of Medicine and Nikon Instruments, Inc., celebrated the establishment of a collaborative core microscopy imaging center at grand opening ceremonies on June 4. The new Nikon Imaging Facility, housed in the Feinberg School's Cell Imaging Center, establishes a partnership that will bring improved research capabilities to Northwestern University and provide critical feedback for Nikon project development. "This is an important day for the research community at the Feinberg School," said Rex Chisholm, PhD, the Adam and Richard T. Lind Professor of Medical Genetics and Dean for Research. "We are grateful to Northwestern University leadership, as well as to the Feinberg School's Department of Cell and Molecular Biology, for their efforts in making this day possible."
Lee C. Shuett, executive vice president, Nikon Instruments, noted that the Feinberg School joins two other U.S. sites, Harvard and the University of California in San Francisco, to be singled out by Nikon for preeminence as an imaging center of excellence. "This closes the loop," he said. Internationally, the exclusive list of top imaging centers with a Nikon center also includes Oxford University, England; Curie Institute, France; Heidelberg University, Germany; Singapore Bioimaging Consortium; and Hokkaido University, Japan.
The Nikon Imaging Facility houses the latest generation of microscopes, beginning with the Nikon C1Si Confocal and Live Scan Swept-field Confocal microscopes. The Live Scan Swept-field Confocal microscope allows users to rapidly capture images of fast-moving live cell events and samples that are sensitive to lights. The C1Si Confocal microscope combines two imaging techniques, confocal and spectral imaging, to view a complete stack of images, providing 3D spectrally separated cellular information.
"There are a number of advantages to having the Nikon Imaging Center at the Feinberg School," says Teng-Leong Chew, PhD, director of the Cell Imaging Facility. "First and foremost, we will have access to state-of-the-art imaging technology. The Nikon Imaging Center greatly maximizes our ability to stay in the forefront of imaging technology by making their latest instruments available. Notably, this greatly reduces the expenditure for the Feinberg School since we are able to use these instruments virtually cost free. This equipment will be updated often, as Nikon continually introduces new advancements in imaging technology. So, instead of upgrading equipment every five years, for example, we will have access to new microscopes at a much higher frequency. Moreover, because Nikon seeks our input about applications, we will cultivate a productive reciprocal relationship. We were chosen not only for our track record of highly successful collaborative partnership, but because of the foremost microscopy expertise at the Feinberg School and the strategic role of the Cell Imaging Facility as the convergent point of imaging needs of the entire institution. We provide critical feedback and suggestions, and they will use this information in developing and fine-tuning their new scopes." Dr. Chew adds that another key advantage for the school is Nikon's commitment to sponsor microscopy workshops at the Feinberg School, since numerous microscopes are needed to run such courses successfully. "We are very excited about this latest advancement in our efforts to provide top-flight imaging capabilities to our researchers," he said.