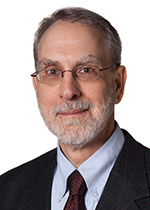 The road from a scientist's discovery in the laboratory to the actual development of new medical treatments for patients can be more like creeping through rush-hour traffic than zooming down a super highway. Northwestern University is launching a massive new program—with a $29 million Clinical and Translational Science Award from the National Institutes of Health—to speed that process and stimulate translational research at the university.
"The goal of this award is to move basic science findings more quickly into clinical trial settings and community settings," said Philip Greenland, MD, Harry W. Dingman Professor of Cardiology at the Feinberg School and Principal Investigator of the new award. "We expect patients will benefit faster from our efforts."
The award will support ongoing work at Northwestern's Clinical and Translational Sciences Institute (NUCATS), which Dr. Greenland directs.
With the funding, Dr. Greenland and colleagues have created five centers to stimulate translational research at the University. Part of that is simply getting researchers from different scientific fields to begin talking to each other. "We want to figure out a way to connect basic science researchers from all the different schools with clinical researchers," Dr. Greenland said. "That's the way to build on knowledge and spark collaborations."
The five new centers include:
Center for Translational Innovation. This center will focus on technology-based innovation such as new diagnostic tests or devices. "You could think of this as product development," Dr. Greenland said.
"While scientists tend to think it's good enough for them to report a discovery and engineers think it's good enough for them to develop the prototype, to get it fully to patients, it needs to be produced and made acceptable and safe. And it's got to have a market," Dr. Greenland explained. "That's what this center will do."
Among its other activities, the innovation center will also provide seed funding for early stage projects and work to facilitate faculty collaborations.
The center director is John Linehan, PhD, professor of medicine at the Feinberg School and professor of biomedical engineering at the McCormick School of Engineering and Applied Science. Alicia Loffler, PhD, director of the Center for Biotechnology at the Kellogg School of Management, will lead a program in market analysis of new products.
Northwestern University Biomedical Informatics Center. This center will focus on information gathering, storage and analytic capability.
"In medicine you have huge amounts of data," Dr. Greenland said. "Being able to gather, analyze and store the data are all critically important." One project already underway is the Enterprise Data Warehouse. This will take all the data collected in electronic health records from all Northwestern affiliated hospitals and the Northwestern Medical Faculty Foundation and aggregate it in a uniform fashion into the electronic warehouse.
The electronic warehouse will allow the creation of patient registries for research, such as creating a list of all patients with diabetes or heart failure. "If you have access to all the health related information in a patient's record, you can look at patient outcomes and quality of care information," Dr. Greenland said. "It provides a universal resource that Northwestern investigators can use to ask important clinical questions."
"Suppose we know that a cholesterol-lowering drug prevents heart attacks in people who have had one heart attack and we want to see how many patients who've had heart attacks are being appropriately treated with that drug," Dr. Greenland said. "This new electronic warehouse will let us evaluate the quality of care regarding treatment with this drug."
The director is Rex Chisholm, PhD, Adam and Richard T. Lind Professor of Medical Genetics and dean for research at the Feinberg School.
Center for Community-Engaged Research. The center will stimulate clinical research in medical practices in the community and will develop research relationships with community-based organizations and individuals. These new opportunities will offer a much broader spectrum of patients than what is normally seen in an academic health center, Dr. Greenland said.
"This center allows us to study problems that never come to an academic health center, like ear infections or sore throats in children," Dr. Greenland noted. "If you want to study common but not serious problems, you have to get out into the community. Research in community-based practices will also help researchers determine more accurately how a particular treatment works."
In addition, the center will build partnerships within community organizations such as churches, synagogues and community groups. Community input also will help determine the type of research conducted.
The center director is Katherine Kaufer Christoffel, MD, professor of pediatrics and of preventive medicine and deputy director of programs in public health at the Feinberg School.
Center for Clinical Research Education and Career Development. This center will provide research training experiences for new researchers with different medical and science backgrounds and help put new research teams together.
"The next generation of biomedical researchers needs to be developed and this center will focus on this critical aspect of the University," Dr. Greenland said.
This center is directed by Lewis Smith, MD, professor of medicine at the Feinberg School and associate vice president for research at Northwestern, and H. William Schnaper, MD, professor and vice chair of pediatrics at the Feinberg School.
Center for Clinical Research. This center will provide resources needed by clinical researchers to do their work such as specialized staff to assist investigators with regulatory processes.
"This center will help us protect patient safety without slowing down the research process," Dr. Greenland said.
The center is directed by Andrea Dunaif, MD, Charles F. Kettering Professor of Medicine and chief of endocrinology, metabolism and molecular medicine at the Feinberg School.
Northwestern University's partners in this project include Northwestern Medical Faculty Foundation, Northwestern Memorial Hospital, Rehabilitation Institute of Chicago, Children's Memorial Hospital and Evanston Northwestern Healthcare.
Visit NUCATS at http://www.nucats.northwestern.edu.
NORTHWESTERN NEWS: www.northwestern.edu/newscenter/