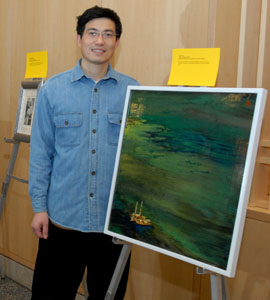 Feng Chen, senior research associate, Division of Endocrinology, Metabolism, and Molecular Medicine, captures the calm and serenity of the sea in a wood block oil painting entitled, "Tranquil Harbor."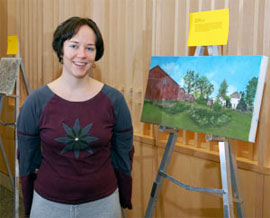 Medical student Rina Crawford's oil on canvas piece, "Grandma's House," is an artistic reminder of her grandmother's home in central Iowa.
Art Exhibit Features Faculty, Staff, and Students


Click here >
to view all of the entries in the 2008 Art in the Atrium exhibit.
While the Feinberg School faculty, staff, and students are known for their medical talent, the annual Art in the Atrium show, sponsored by the Staff Relations Committee (SRC), proves that aesthetic talent is in abundance too. This year's exhibit drew 29 submissions including water colors, oil paintings, and one copper plate etching. Digital photography proved to be the favored medium.
"Art in the Atrium is a nice opportunity for the entire Northwestern community to come together," says Felecia Stokes, SRC member and the event coordinator. "It's all about celebrating the artistic talents of people whom we see everyday and work with side by side."
Displayed in the lobby of the Robert H. Lurie Medical Research Center in January, the exhibit was followed by a reception for the artists, which included 14 Northwestern staff members, 10 faculty members, 3 students, and 2 research associates.
"Art in the Atrium opens the door for colleagues from our partner institutions, like the Northwestern Medical Faculty Foundation and Northwestern Memorial Hospital, to interact with the Feinberg School community," adds Gail Rosenblum, a long-time SRC member.