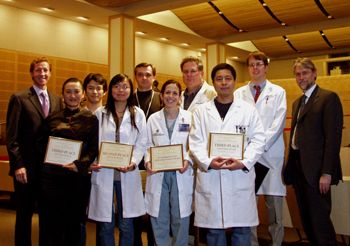 Flanked by Dean Jameson (left) and Dr. Chisholm are the research poster presentation award winners (from left) Drs. Rongxue Wu (third place, basic sciences), Kazunari Nohara (first-place tie, women's health), Min Cheng (second place, basic science), Milan Joksimovic (first place, basic science), Jacqueline S. Jeruss (first-place tie, women's health), Robert J. McCarthy, (second place, clinical) Changbin Shi (third place, clinical), and Jarrett D. Berry (first place, clinical).
Lewis Landsberg Research Day Features Translational Research
At the Fourth Annual Lewis Landsberg Research Day held in March, Rex Chisholm, PhD, dean for research and Adam and Richard T. Lind Professor of Medical Genetics, introduced the keynote speakers, winners of Drew Senyei, MD, Translational Research Awards. Melina R. Kibbe, MD, GME '03, assistant professor of surgery, spoke on "An Interdisciplinary Bioengineering Approach to Improve Vascular Bypass Grafts." She and her team are modifying existing Gore-Tex prosthetic grafts to treat peripheral arterial disease. Her co-investigator, Guillermo A. Ameer, ScD, assistant professor of biomedical engineering, talked about the polymer he developed, poly (diol citrate) or POC, which stimulated endothelial cell growth in Gore-Tex grafts coated with it. POC can also carry a nitrous oxide (NO) donor molecule, which releases NO locally. The latest prototype prosthetic graft is in preclinical testing in porcine models.
D. James Surmeier, PhD, Nathan Smith Davis Professor and chair of physiology, discovered that dopamine neurons, which die in Parkinson's disease, can be "rejuvenated" by blocking the calcium ion channels that drive their pacemaking. Isradipine, a calcium channel blocker prescribed for hypertension, forced dopaminergic neurons to revert to an early developmental stage in which pacemaking relies on sodium ion channels. Co-investigator Tanya Simuni, MD, associate professor of neurology, is running a clinical safety trial with early stage Parkinson's patients using isradipine and will apply for a National Institutes of Health grant to fund a neuroprotection trial.
Another co-invesitigator, Richard B. Silverman, PhD, John Evans Professor of Chemistry, described his efforts to synthesize a molecule that specifically targets the brain ion channel, but not the vascular system channel. The genetic makeup of the two differs by a single amino acid. He's addressing a similar problem in research to inhibit the action of NO synthase, a NO precursor, in the brain but not in the cardiovascular or immune systems. Brain overproduction of NO is implicated in stroke and other neurological problems.
Jon W. Lomasney, MD, associate professor of pathology, spoke on "Applications of Peptide-Based Nanostructures for Cardiovascular Therapy." He's on the team led by Senyei Award winner Samuel I. Stupp, PhD, Board of Trustees Professor of Materials Science, Chemistry, and Medicine. Dr. Stupp's lab developed synthetic molecules that self-assemble into a tubular nanostructure displaying heparin molecules on the outer surface. Dr. Lomasney and his team used animal models of myocardial infarction to show significant improvement after 30 days' treatment with the nanotubes. Treatment also promoted angiogenesis in a model of peripheral ischemia.