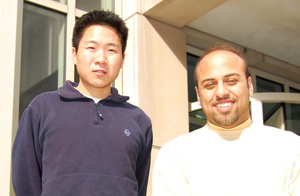 Christopher S. Takehana, a fourth-year student and Neel K. Naik, a second year student, are two of the recipients of the RSNA grants.
Students Receive Prestigious Grants to Study Radiology
Four Feinberg School students recently received research grants from the Radiological Society of North America (RSNA) that gave them a chance to probe the field of diagnostic and interventional radiology early in their medical careers. The awards represent a major coup for the students and Northwestern.
"These four students have successfully competed against students at other top medical schools for these awards," said Eric J. Russell, MD, Drs. Frederick John Bradd and William Kennedy Professor and chair radiology at the Feinberg School. Three students from the University of Pennsylvania and two each from Harvard Medical School and Washington University School of Medicine also were awarded the grants.
"Having our students granted these awards have resulted in a significant number of award-winning projects and excellent publications," Dr. Russell said. "We have been able to attract some of the brightest Feinberg students into our exciting specialty through this program."
The sponsoring department matches the $3,000 RSNA grants and allows recipients to work with a faculty advisor to define objectives, develop research skills and test a hypothesis before making their choices for residency training programs. A final report to the RSNA is required within 60 days after the project is completed. The program allows students to study any area of research related to the radiologic sciences.
"Our faculty mentors have helped students develop the skills required to conduct meaningful research, and at the same time we have benefited tremendously from the students' hard work and enthusiasm," said Dr. Russell. "It's truly a win-win situation for all."
Christopher S. Takehana, a fourth-year student, said the award helped solidify his interest in radiology. "Now I'm considering research and teaching as an actual career option," said the South Pasadena, California native. Takehana's research focused on the use of radioactive microspheres to deliver radiation directly to the blood vessels of patients with inoperable liver cancer. The aim of his research was to measure blood flow changes before and after treatment in hopes of developing improved therapies.
Second-year student Neel K. Naik of Carol Stream, Illinois, also studied the palliative treatment of liver tumors. Current protocol says that to deem treatment successful, a conventional MRI must show a decrease in tumor size three months after treatment. Naik looked at using diffusion-weighted MRI and the motion of water molecules to measure tumor size. "My research showed a correlation between measurements using this kind of imaging taken at one month versus the conventional MRI standard of three months, meaning it may be possible to predict success of treatment two months earlier than current protocol. That would allow physicians to make earlier decisions on whether to retreat or whether different treatment may be necessary," said Naik.
"It's a great opportunity. I hope future students take advantage of this grant program," he added. The grant recipients also include students George L. Lin, a visiting student doing research at the Feinberg School, and Ryan L. Lo, a second-year student from Libertyville, Illinois.