Spine Surgery Innovator Richard Fessler Appointed to the Feinberg School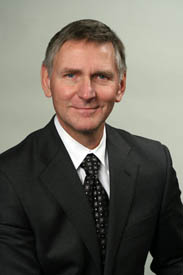 Richard G. Fessler, MD, PhD, a pioneer in minimally invasive spine surgery, joined the Feinberg School as professor of neurological surgery on October 1.
"Dr. Fessler is internationally recognized for his expertise in minimally invasive spine surgery, which promises to alleviate pain and neurologic symptoms for patients who suffer from disorders that impinge on the spinal cord," said J. Larry Jameson, MD, PhD, vice president for medical affairs at Northwestern University and Lewis Landsberg Dean of the Feinberg School. "He has also trained dozens of surgeons to use his techniques, thereby expanding the number of patients who can be treated with minimally invasive approaches."
Dr. Fessler has led or been a member of the teams that developed minimally invasive approaches to more than 20 different spine operations. "We're at the point now where we can do almost all of our surgeries of the spine through minimally invasive techniques," Dr. Fessler said. The most recent addition to these procedures is correction of scoliosis, including minimally invasive subtraction osteotomy and instrumentation with steel rods to stabilize repaired vertebrae. For several years Dr. Fessler has collaborated with Feinberg School faculty members John C. Liu, MD, associate professor of neurological surgery, and Stephen L. Ondra, MD, professor of neurological surgery, to convert the open operation into a minimally invasive one.
Previously chief of neurosurgery at the University of Chicago, Dr. Fessler said, "Coming here to work with Drs. Liu and Ondra at the same institution was a logical next step. Another attraction was that Northwestern's medical center recently changed its vision and is pursuing a major academic reputation in the clinical arena."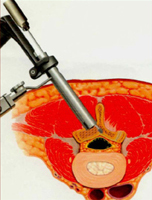 A minimally invasive lumbar spine decompression can be achieved through a 2.5 centimeter incision. The surgeon places a working channel through the incision to access the vertebrae. The endoscopic tools are extended through the working channel, shown above attached to a retractor arm on the left.
The full spectrum of spine surgery and medical care combines the expertise of neurological and orthopaedic surgery, physical medicine and rehabilitation, radiology, physical therapy, and specialized nursing. "We plan to bring together all these disciplines in one place to create a sport and spine institute at Northwestern," said Dr. Fessler. "The goal is to give patients a 'one-stop shopping' atmosphere, where they can see all the specialists they need to see and have whatever testing they need done in one appointment, maybe two, if their problem is particularly complex."
Said H. Hunt Batjer, MD, Michael J. Marchese Professor and Chair of the Department of Neurological Surgery, "Dr. Fessler has served as a leader of national and international organizations, and his educational and administrative experience leaves him ideally positioned to help develop the new Northwestern Sport and Spine Institute. This treatment paradigm will include all aspects of sports medicine, degenerative spine disease, women's spine disease, spinal deformity, and spinal oncology."
Dr. Fessler brought most of his team to Northwestern, including the engineers who helped him design and build new tools for minimally invasive spine surgery via endoscopy. They will continue research on human cadavers to refine the techniques and tools for these innovative procedures as well as develop new ones. Another area of Dr. Fessler's research focuses on the biomechanics of the spine using both laboratory and computer modeling approaches. "In the past, some of our traditional, open procedures would lead to instability of the spine over time," said Dr. Fessler. "Since our minimally invasive techniques leave almost all the structures completely normal, we believe that won't happen anymore. We're testing that mechanically in the laboratory to prove it." His team is already collaborating with researchers based at both the Feinberg School and the Rehabilitation Institute of Chicago to advance this research.
"I see great potential in this institution," Dr. Fessler said. "I know neurosurgery best, and the faculty here has a great mix of well known senior surgeons and really bright, talented younger surgeons who are going to be great neurosurgeons in the next five years. They are backed by an institution that's in a great location with wonderful facilities, a good academic vision, and a solid financial base. These are exciting times, particularly in neurosurgery."
Added Dr. Batjer, "Dr. Fessler's recruitment to Northwestern is the most recent example of the fact that star American and international physicians are being attracted to our academic medical center. He feels that the unique practices and collaborations between departments at Northwestern will provide the ideal environment to take the technologies he developed to the next level."
Posted January 7, 2008.