November 9, 2007

Aspiring Physicians and Scientists Find CURE
"What did you do this summer?" is a question typically asked of students returning to school. Louisiana State University junior Dara Davenport's response might make her peers a bit envious.
Davenport, who aspires to be a pediatrician, might say, "Oh, I lived with a friend in Chicago's Lincoln Park area and walked just 10 minutes to a summer research job at one of the finest pediatrics hospitals in the country. I had a great mentor who taught me research skills and showed me how rewarding being an academic pediatrician can be. In my spare time, I took full advantage of Chicago's outstanding recreational and cultural activities."
As a participant in Northwestern's CURE (Continuing Umbrella of Research Experience) Program, Davenport worked in the laboratory of David O. Walterhouse, MD, associate professor of pediatrics. At his Children's Memorial Research Center lab, she contributed to Dr. Walterhouse's research on how the Gli1 oncogene turns healthy cells into cancerous ones.
While Davenport had long ago decided she wanted to become a pediatrician, she wasn't so sure about conducting research too. "This experience gave me a good idea of what goes on behind the scenes, so research could be a possibility," says Davenport. "Before I started, I was afraid I might be doing busy work, but I really felt that I was contributing to the lab. I'd definitely come back if asked."
Not only did Davenport gain exposure to pediatrics research, but she also had the opportunity to see the clinical side of pediatrics. "Shadowing Dr. Walterhouse in the [Children's Memorial Hospital] clinic where he sees kids with cancer was so motivational," she says. "It confirmed my desire to go into pediatrics."
Being a CURE Program mentor gives Dr. Walterhouse an extra pair of hands in the laboratory, but more importantly it fuels his desire to teach. "Among all the things I do, teaching is at the top of the list," he explains. "The CURE students are eager to learn. It's very satisfying to help them with career decisions along with instructing them about how to conduct experiments."
Dr. Walterhouse is such a staunch supporter of the program that last summer he had three lab members with CURE connections: Davenport, a returning CURE student, and a former CURE participant he hired to work full time as a research technician.
The CURE Program started at Northwestern in 1999 when Robin G. Leikin, PhD, now research assistant professor, Robert H. Lurie Comprehensive Cancer Center of Northwestern University, received funding from the National Cancer Institute to initiate a program to provide underserved students with a summer experience in cancer research.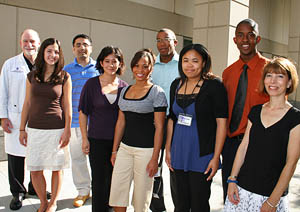 At the CURE program's end-of-summer seminar, Drs. Steve Rosen (far left) and Robin Leikin (far right) enjoyed presentations from the participants on their research experiences. This year's CURE students are (from left) Kelly Fitzgerald, Habib Bilfaqi, Maria Valdovinos, Dara Davenport, Simeon King, Tiffany Ryan, and Kadir Carruthers.
Dr. Leikin has developed a well run program that has shown success in attracting young people (high school seniors and college undergraduates) to careers in biomedical research and medicine. Of 83 students who have participated in CURE thus far, 37 percent are still in school, 28 percent have entered a graduate program in a biomedical field (graduate school, medical school, or public health program), and 5 percent have a job in a biomedical field. Sixteen percent are not in science. Dr. Leikin was unable to reach 14 percent of the students.
Each year Dr. Leikin receives more than 60 applications for the 10–12 available spots. Most of those accepted have local connections—family members or friends—who can provide housing for the summer. The 3–4 out-of-towners are assigned to Lurie Cancer Center researchers on the Evanston campus; they live in dorms there. The research experience varies by participant, but all CURE students attend Friday seminars on the Chicago campus on various aspects of cancer research and career options. At the end of the eight-week program they make presentations on what they have accomplished.
Dr. Leikin's role in the CURE Program is multifacted, including that of being promoter, recruiter, adviser, transportation and housing coordinator, seminar organizer, substitute parent, and friend. She recalls finding health care for a student with a sore throat who feared it might be more serious. "I'm especially concerned about the out-of-town students, lecturing the girls about never going any place alone," she says. In recent years she has enlisted the help of colleague Benette Phillips, PhD, research assistant professor, Lurie Cancer Center, to help run the program.
As part of her annual follow-up on CURE students, Dr. Leikin has received numerous e-mails, including many commenting on the program's positive impact on students' lives. Some note that the program has given them a sense of direction. Former students often stop by to visit and have even offered to help her keep the CURE program going. "This gives us a feeling of doing something worthwhile," she says.
Dr. Leikin's efforts come full circle when these satisfied CURE students tell others about the program, thus helping bring more aspiring scientists and physicians into the fold.
Reprinted from the Fall 2007 issue of Ward Rounds.