The Art of Histology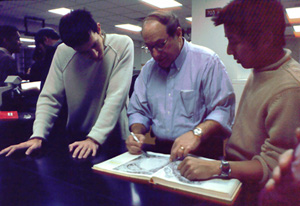 Dr. Telser (center) taught histology to several generations of medical students, using art from "the old masters" to help students develop their visual acuity.
When Alvin G. Telser, PhD, associate professor emeritus of cell and molecular biology, looks at histology slides, he sees not only examples of tissues and organs, but also a work of art with artistic attributes. A self-described "visual thinker," he utilized this concept when teaching histology to first- and second-year medical students at the Feinberg School of Medicine.
"During his histology lectures, Al would have art slides—mostly old masters—mixed in with his histology slides," says Kevin E. McKenna, PhD, professor of physiology and urology, and a colleague of Dr. Telser's. "Then, he would quiz the students to see if they could identify the artist."
As a lover of art, Dr. Telser knew that a work of art is recognized by certain characteristics. "I wanted to show the students that the same method of identifying art could be applied to the study of tissue," he said. Eventually, this led to his involvement in developing an elective course offered to the medical students called "The Art of Observation" and held at the Art Institute of Chicago. A small group of students meet at the museum to listen to lectures and study paintings. The course is designed to sharpen the observation skills of the learner.
Dr. Telser's commitment to student learning has been evident throughout his career at the medical school. He joined the faculty in 1971 and spent the first 15 years primarily working on research. Also in 1971, he began teaching histology and subsequently, in 1979, became the course director. During the early 1980s, a dramatic revision of the curriculum took place, with Dr. Telser playing an active role.
Dr. McKenna relates, "Al was here through a period of tremendous change. When he arrived, the medical school was primarily focused on teaching in the very traditional manner. He was a major participant in the development of our new curriculum, which most people would agree has been a big success. Subsequently, many other medical schools have adopted similar curricula."
Dr. Telser helped devise a curriculum that stresses the importance of cross-disciplinary medical knowledge, emphasizing active rather than passive learning. This is achieved through small–group discussion and self-directed studies. The result is less lecture time while enabling faculty members to track what the students have learned in previous sessions.
Since his retirement in August 2006, Dr. Telser still strives to enhance a student's ability to learn. "I want to provide educational materials that will have a larger impact than my presence in a classroom," he says. He has created a histology Web site that provides digital slides a student can study, along with internal links and search tools. The site complements lectures and textbooks.
Along with a colleague in Australia, Dr. Telser is working on a digital virtual histology slides atlas. Whereas the Web site enables students to only look at specific parts of the slide that are chosen for them, this program allows viewers to scan the whole specimen at any magnification they want.
Dr. Telser also wrote a textbook that was published and released this past June. As part of an integrated series of nine titles in the basic science discipline, he wrote text for Elsevier's Integrated Histology. Other titles in the series include Anatomy and Embryology, Biochemistry, and Pathology. Dr. Telser's text contains links to information on related concepts from the other disciplines. At the end of each chapter, case-based questions are provided to help students assimilate the new information.
So what does Dr. Telser do now that he is an emeritus professor? "My wife and I travel to Europe and visit museums," he laughs.
Posted October 15, 2007