In Memoriam (Al Gerbie)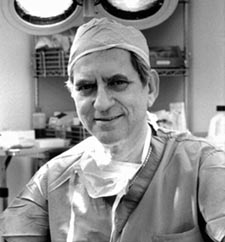 Albert B. Gerbie, MD, professor emeritus of obstetrics and gynecology, died on Monday, October 15. He was 80.
Born in Toledo, Ohio, he graduated from the University of Toledo in 1946 and continued his education at George Washington University in Washington, earning his medical degree in 1951. After serving in the United States Army, he took a rotating internship at Michael Reese Hospital in Chicago. Afterward, he joined Northwestern University's Department of Obstetrics and Gynecology in 1952. His career flourished at Northwestern for more than 40 years where he treated approximately 12,000 women patients and delivered 3,000 babies.
Dr. Gerbie conducted early research in prenatal genetic diagnosis and helped make amniocentesis a valuable diagnostic tool. He wrote and published more than 100 articles in his field. A paper appearing in the New England Journal of Medicine was selected as one of the top 100 scholarly articles in pediatric genetics in the past 50 years. Of particular note were his contributions as chair, president, and director of the American Board of Obstetrics and Gynecology from 1975–96.
John J. Sciarra, MD, PhD, professor emeritus of obstetrics and gynecology and former department chair, said, "Not many know just how important his role was as a mentor to the young people in our department over the years. He should be remembered for this as well." Dr. Sciarra also mentioned that Dr. Gerbie's brother and partner, Melvin V. Gerbie, MD, professor of obstetrics and gynecology, led the committee to raise funds for an endowed professorship in Dr. Al Gerbie's name. At Dr. Al Gerbie's request, the professorship is devoted to medical education. Sharon Dooley, MD, MPH, senior associate dean for graduate medical education and former director of the obstetrics and gynecology residency at Northwestern, was invested in 1995 as the Albert B. Gerbie, MD, Professor of Obstetrics and Gynecology.
For exercise and fun, "Dr. Al" practiced the sport of ice dancing for more than half his life and participated actively in the Skokie Valley Skating Club.
Barbara Hirsch Gerbie, Dr. Gerbie's wife of 55 years and childhood sweetheart, died the day before he did. Survivors include their children: Gail, Ralph, and Jodie Gerbie, and grandchildren: Heather Oberly, and David, Danielle, and Kevin Gerbie. His brother, Melvin Gerbie, MD, and wife Patti also survive.
Posted October 16, 2007