School Welcomes William Muller as Pathology Chair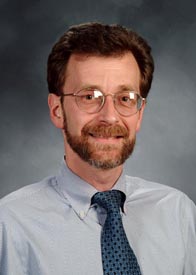 William A. Muller, MD, PhD, has been appointed professor and chair of the Department of Pathology at the Feinberg School of Medicine, effective July 1. He succeeds Janardan K. Reddy, MD, who has served in that post for the past 14 years and and will remain on the medical school faculty to teach and conduct research.
Dr. Muller comes to Northwestern from Weill Cornell Medical College, where he is professor of pathology and laboratory medicine and attending pathologist at New York-Presbyterian Hospital.
A native of New York, Dr. Muller received a bachelor's degree from Harvard University in 1975, a PhD degree from Rockefeller University in 1981, and an MD degree from Cornell in 1982. He completed an internship in medicine at Massachusetts General Hospital and a pathology residency at Brigham and Women's Hospital. He had served on the faculty at Rockefeller University (1987–96) and at Cornell since 1987.
Dr. Muller's professional organizations include the American Society for Investigative Pathology, American Heart Association, North American Vascular Biology Organization (serving as president 2004–05), and Harvey Society.
Author of numerous journal articles and book chapters, Dr. Muller's research focuses on mechanisms controlling leukocyte-endothelial cell interactions in inflammation. He is an editor of the Journal of Experimental Medicine.