Former Dermatology Chair Samuel Bluefarb Dies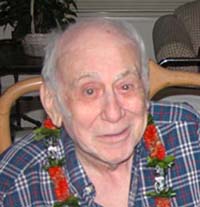 Samuel M. Bluefarb, MD, professor emeritus of dermatology, died at his home in Kilua-Kona, Hawaii, on June 7. He was 94. He was chair of Northwestern's Department of Dermatology from 1962–77 and the first Walter J. Hamlin Professor of Dermatology. The Chicago Dermatology Society's Annual Bluefarb Lecture is named in his honor.
Born in St. Louis in 1912, Dr. Bluefarb was a graduate of the University of Illinois College of Medicine in Chicago, interned at Cook County Hospital, and completed dermatology training at Bellevue Hospital in New York City. Returning to Chicago in 1952, he became chair of the Cook County Hospital dermatology department, a position he held until 1958.
Both a respected department head and superb dermatologist, Dr. Bluefarb's greatest legacy may have been his medical writings. In addition to numerous journal articles, he wrote five significant, highly referenced books on cutaneous lymphoreticular diseases. His books include Kaposi's Sarcoma, Mycosis Fungoides, Cutaneous Manifestations of the Malignant Lymphomas, Cutaneous Manifestations of the Benign Inflammatory Reticuloses, and Leukemia Cutis.
After retiring from Northwestern, Dr. Bluefarb moved to Florida and became professor of dermatology at the University of South Florida in Tampa and chair of the Department of Dermatology at the Bay Pines VA Medical Center there. He retired from these posts in 1987 and eventually moved back to Chicago. After the 2004 death of his wife, Leah Rose, Dr. Bluefarb moved to Hawaii, where his son, Richard, lives.
In addition to his son, survivors include granddaughter Samantha; daughter-in-law Cheri; stepdaughter, Nancy Pollack; and stepson, Fred Pollack, MD.
Posted June 20, 2007