Terra Incognita Premieres at Northwestern
When college student Carrie Kaufman suffered a debilitating spinal cord injury after diving off a pier into a Wisconsin lake, friends quickly pulled her from the water. Although unable to move her arms and legs, Carrie had the presence of mind to offer advice to her frantic companions, according to her father, Dale M. Kaufman, MD, assistant professor of emergency medicine at the Feinberg School of Medicine. "Her friends didn't know what to do," he remarks, "so Carrie said, 'I know what to do, I'm a lifeguard.'"
Today, almost four years after her accident, Carrie attends DePaul University in Chicago. She has mused on her blog—"This is Spinalcrap"—about painting the kitchen of her very own one bedroom apartment Granny Smith apple green. Quadriplegic with partial use of one arm and confined to a wheelchair, this 24-year-old is not waiting for a cure to live her life. She takes public transportation. She expresses herself through painting, using a brush held in her mouth. She loves music. And she has shared her very poignant and personal story in the documentary Terra Incognita: The Promise and Peril of Stem Research.
Premiering at Northwestern University May 10 on the Chicago campus and May 16 in Evanston as part of the Center for Genetic Medicine's (CGM) Silverstein Lecture Series, the film explores a revolutionary but highly controversial area of medicine. Stem cell therapy has inspired hope for the cure of disease and repair of injuries. It has also elicited outrage from those opposed to the use of embryonic stem cells. Following the life and work of John A. Kessler, MD, a renowned stem cell expert and chair of the Ken and Ruth Davee Department of Neurology and Clinical Neurological Sciences at the Feinberg School of Medicine, the documentary tackles the complex topic of stem cell research at a decidedly human level. The film tells the story of the Kessler family and others such as the Kaufmans whose lives have been touched by spinal cord injury.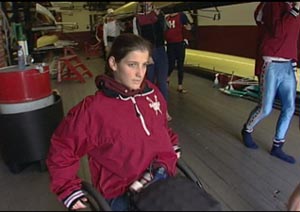 In January 2001 an awkward fall on the landing side of a ski jump in Connecticut resulted in a crushed spinal cord for Allison Kessler (shown at left), the only daughter of Dr. Kessler and his wife Marilyn Kessler, MD, assistant professor of obstetrics and gynecology. The injury paralyzed Allison, then 15, from the waist down and instantly changed her life and those close to her. Dr. Kessler immediately shifted his research focus from peripheral nerve disorders to the use of stem cells to regenerate the damaged spinal cord.
"When I read about Jack and Allison in a Chicago Tribune article in 2002, I thought theirs was a great story that needed to be told," recalls veteran film director Maria Finitzo, an associate of Chicago-based Kartemquin Films. The socially conscious documentary film company is best known for its award-winning film Hoop Dreams (1994). "At Kartemquin we look for personal stories that will put a human face on an issue. Our intent with Terra Incognita was to put a human face on the stem cell research debate."
Those "faces" include individuals who could some day benefit from spinal cord regeneration and those involved in finding a way to reconnect a nervous system that was once whole and is now broken. Film maker Finitzo spent two years filming in and around the Feinberg School and the McGaw Medical Center of Northwestern University, following Dr. Kessler in his roles as a clinician, scientist, teacher, stem cell research advocate, and parent.
In Dr. Kessler's laboratory, Northwestern University Interdepartmental Neuroscience graduate students Vibhu V. Sahni and Vicki Tysseling-Mattiace demonstrate the immense challenges of scientific discovery at the bench and in animal studies. Bioethicist Laurie S. Zoloth, PhD, director of bioethics, CGM, and professor of medical humanities and bioethics, who has testified before the U.S. Senate on behalf of stem cell research, urges open-minded discussions driven not by moral panic or fear of an "imagined future" of human cloning but rather by a passion for healing and alleviation of human suffering.
The film crew also traveled to Boston to record the full and active life of Allison Kessler, now a senior at Harvard University who has plans for medical school. An avid athlete all of her life, Allison uses her commanding voice as coxswain of Harvard's men's crew team. No "shrinking violet" according to Dr. Kessler, Allison played a central role in the Kessler family's decision to go ahead with the documentary.
"Since her accident we have been approached numerous times by film companies," says Dr. Kessler. "We pursued Kartemquin's proposal because we felt the organization would be straightforward in telling the story of and showing the human side of stem cell research—biology and biologist—warts and all. Plus my daughter forced me. She's a strong and vocal advocate for stem cell research and was outraged by President Bush's position on this matter." In 2006 President Bush vetoed—the first of his presidency—expanded federal funding for stem cell research.
Also appearing in the film, Dr. Kaufman hopes the documentary helps to educate and bring public awareness to the great healing potential of stem cell research. "For me there is no debate. This is about helping my daughter and others like her," says Dr. Kaufman, who turned to Dr. Kessler for advice when Carrie was injured. "Our situation speaks for itself."
Posted May 2, 2007