Chinatown Residents Flock to Student-Run Health Fair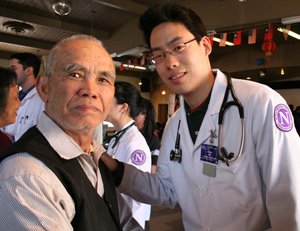 First-year medical student Isaac Wu greets Yung An Yu, one of 264 participants in the annual student-run Chinatown Health Fair.
At 7:45 a.m. on Sunday, April 15, a long line snaked its way along the front of the Chinese Consolidated Benevolent Association in Chicago's Chinatown. Residents patiently stood in line for the 9 a.m. opening of the annual Chinatown Health Fair, organized by 65 Feinberg School medical students dedicated to helping the underserved. Some of these students carry out their commitment throughout the year by operating a weekly free clinic at the same site.
Once the doors opened, residents visited a series of seven stations, each offering different health screening tests. After visiting all seven stations, participants had received the equivalent of a complete physical examination. Key services included blood pressure checks for hypertension and blood glucose tests for diabetes. In addition, basic evaluations of the head, ears, eyes, nose, throat, neurological functioning, heart, lungs, and bone density were performed. Breast exams and Pap smears also were offered and appointments scheduled for later dates.
Five second-year medical students led the fair: Susanna Tan, Jessica Eng, Ying Zhang, Neil Chungfat, and Joel Ou. This team also helps staff the free weekly medical clinic. Other Northwestern student volunteers served as translators for residents who spoke only Mandarin or Cantonese, enabling accurate communication with fair participants, who were mainly elderly Asian immigrants. The fair is an offshoot of the free medical clinic held on Sundays from 11 a.m. to 1 p.m. In addition to students the clinic is staffed by Peter Hui, MD; two other physicians; and a nurse, Shiao-Lin Hui, the acknowledged hub of the operation.
"The Chinatown Health Fair is a win-win for Northwestern students and fair participants," says Tan. "Students have the opportunity to practice their organizational and clinical exam skills, and attendees receive physical exams, results, and accurate health information."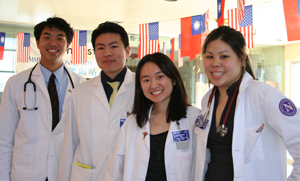 Key organizers of the health fair include medical students (from left) Ying Zhang, Joel Ou, Susanna Tan, and Jessica Eng.
Adds Eng, "Students gain a lot from experiencing specific aspects of the Chinese culture. In older women patients, for instance, it was important to be mindful of their modesty. Only female medical students were allowed at certain stations and performed certain tests. Also, when translating, words for parts of the body and their functions were carefully chosen so they wouldn't offend anyone."
Local businesses generously offered their support to the event. For instance, Larry Wong, executive director of the Chinese Benevolent Consolidated Association, offered space, equipment, and personal muscle for the fair. A Chinese-language newspaper included an article on the event, while other businesses displayed promotional flyers and provided delicious foods at lunchtime to feed participants and volunteers. Many additional members of the Northwestern community participated by donating medical supplies and equipment such as diabetes test kits and a bone scanner, as well as photocopy services.
When the fair ended at 3 p.m., 264 community residents had received free, complete physical examinations and basic health counseling. They also felt better, no doubt, knowing that any medical problems discovered at the fair could be addressed at the free clinic, thanks to the dedicated team of students and health care professionals that ensures that health care services are available to this special community.