April 30, 2007
Helen Binns Tackles Lead Poisoning in Children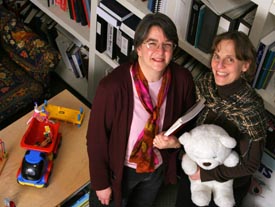 Pediatrician Dr. Helen Binns (left) and attorney Anita Weinberg have served together on the Illinois Lead-Safe Housing Task Force for a decade.
According to the Centers for Disease Control and Prevention (CDC), Illinois leads the nation in the number of lead-poisoned children, a fact that weighs heavily on Helen J. Binns, MD '81, GME '87, MPH, professor of pediatrics at the Feinberg School. "Lead causes changes in the developing brain that can result in permanent learning or behavior problems in children," explains Dr. Binns. "Because lead binds to bone, where it has a half-life of 20 years, even short-term environmental exposures can result in long-lasting exposures to body systems."
Since the early 1990s clinician and public health researcher Dr. Binns has been defining the problem of lead poisoning and ways to prevent it. "Health care providers are in a hard position because society as a whole has not been willing to institute preventive measures," she says. "We tend to act after a child is poisoned."
Dr. Binns chaired the medical working group that contributed to the Illinois Lead Poisoning Prevention Act of 2006, signed into law last June. Her group was part of the Lead-Safe Housing Advisory Council, established by legislation in 2003. The council makes recommendations to the governor and Illinois General Assembly on lead poisoning prevention programs, including providing funds to help landlords and homeowners make housing lead safe and developing legislation to improve state and local programs.
In 1991 the CDC lowered the blood lead level that raises red flags to 10 micrograms per deciliter of blood and recommended universal blood lead screening for children at ages 12 and 24 months. At that time Dr. Binns was conducting studies with the Pediatric Practice Research Group (PPRG), a consortium of pediatricians in the greater Chicago area participating in research relevant to primary care pediatrics. Recalls Dr. Binns, "The suburban doctors in the PPRG were telling us, 'These kids live in places that were cornfields in 1950, so they are at very low risk.'"
Dr. Binns confirmed this observation. Her study, published in the February 1994 issue of Pediatrics, showed only 2.1 percent of children ages 1–2 in the suburban practices had blood lead levels of 10 micrograms per deciliter or greater. Most of those children actually resided in the outskirts of Chicago and were more likely to live in housing constructed before 1960. According to a U.S. Department of Housing and Urban Development survey, 68 percent of U.S. homes constructed before 1940, 43 percent built from 1940–59, and 8 percent built from 1960–78 contain lead paint hazards. These include deteriorated lead-based paint and lead-contaminated dust or soil. In 1978 legislation reduced the lead content allowed in most paints to .06 percent, or a trace amount.
In 1995 Illinois implemented targeted blood lead screening, which mandated testing for children living in the highest risk areas and allowed risk assessment using a questionnaire for those living in lower risk areas. Dr. Binns' subsequent statewide study evaluated the sensitivity and specificity of the questions for targeted screening. Questions about time spent in homes built before 1950 and in those built before 1978 undergoing renovations identified the most children with lead in their blood.
This research began her collaboration with the Illinois Department of Public Health. In 1995 Dr. Binns was appointed to the department's Lead Medical Advisory Board, and in 1997 she joined the Illinois Lead-Safe Housing Task Force. Her growing expertise drew her into a lead abatement demonstration project in Chicago, the West Town Project, a collaboration of the public health department, Erie Family Health Center, Bickerdike Redevelopment Corporation, and Public Health and Safety, Inc., an environmental firm. Dr. Binns headed the evaluation component of the project.
"Public Health and Safety helped us with the lead evaluation of homes in West Town," says Dr. Binns. "Bickerdike guided the abatement crews for the houses with lead, which was all of them. Erie Family Health Center connected the team to families in the neighborhood and provided education, blood lead screening, and help moving families out while their homes were made safe. This served as a model of how community organizations could come together to address the problem."
But children can also be exposed to lead outdoors. "As part of the West Town Project we also collected soil samples," explains Dr. Binns. "We found high levels of lead contamination, likely caused by past land use, deterioration of exterior paint, and past industry and automobile exhaust emissions." The results of their study showed lead concentrations from 175 to 7,953 parts per million. According to the Environmental Protection Agency, 400 parts per million or less is considered safe for child play areas.
Dr. Binns has taken her public health research into Chicago's communities to prevent childhood lead poisoning.
Protective measures include covering soil with barriers such as thick grass, mulch, wood chips, or crushed stone to reduce exposures. To evaluate these landscaping techniques and explore the possibility of actually removing lead from the soil, Dr. Binns collaborated with Kimberly Gray, PhD, associate professor of civil and environmental engineering at Northwestern. They launched the Safer Yards Project, funded by a two-year, $900,000 grant from the CDC and U.S. Department of Housing and Urban Development, to identify plants that remove the most lead from the soil and that can then be harvested. Evaluation of project data continues today.
The results of her work are tangible in the Lead Evaluation and Treatment Clinic at Children's Memorial Hospital (CMH). Weekly clinics began in 1991 with two physicians staffing them. "I started working in that clinic in 1997," says Dr. Binns, who took over its directorship in 1999. "Today I'm the only one treating kids, half a day every other week. The volume is way down." When lead poisoning is found, steps include monitoring children for developmental and behavioral concerns, educating parents, and ensuring that public health personnel have provided oversight for home repairs. Chelation medications, which bind lead in the bloodstream and enhance excretion of lead in urine, are sometimes required.
"In the mid-1990s a quarter of children tested in Chicago had lead levels of 10 micrograms per deciliter or greater," she continues. "Our work helped push Chicago to recommend screening children at younger ages and more frequently." For the past several years the Chicago Department of Public Health has inspected homes when a child has a lead level of 10 or higher, but in the rest of Illinois lead levels had to reach 15–20 before triggering home inspections. "The new law passed last year mandates for the entire state home inspections when children age 3 years and younger have a blood lead level of 10 or higher," adds Dr. Binns.
Moving entire communities toward healthy behaviors is a monumental task, and Dr. Binns remains optimistic and dedicated to it. More than 35 years of persistent advocacy were required for the United States to drastically reduce the release of lead into the environment. For the last 17 years, Dr. Binns has played key roles in keeping it out of children. She hopes to have the same impact on obesity, tobacco use, and other pediatric public health problems.
(Excerpted from an article on Helen Binns that appeared in the spring 2007 issue of Ward Rounds.)