November 8, 2006
New Center Bridges Disciplines to Take 21st Century Look at Health Disparities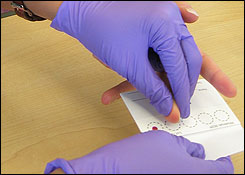 A group of researchers gathered last summer (and gave blood samples) at the first annual Summer Biomarker Institute hosted by Cells to Society.
The social scientist didn't flinch when a fellow social scientist pricked her finger. Smiling broadly, she offered to undergo a second lancet prick after her finger produced only an almost imperceptible drop of blood.
The two academics were among more than two dozen researchers, mostly social scientists, who, in an unusual assignment, were gathered at various tables scattered with red biohazard containers, rubber gloves, packets of gauze, and blue lancet devices. The conversation escalating, they pricked and squeezed each other's fingers, some more skittishly than others, obsessed with getting the requisite five drops of blood onto each of their sample papers.
Thomas McDade, PhD, an anthropologist with a biological bent, had just gotten through lecturing the researchers, who represented a number of disciplines and schools throughout the country. Before telling them to "glove up," he talked about the advantages and disadvantages of collecting blood spots that are dried and ultimately converted back to liquid blood for research purposes.
Dr. McDade, associate professor of anthropology, is a specialist in how physiological processes are shaped by and regulated by social and cultural circumstances. His blood spot presentation and tutorial took place during the first annual Summer Biomarker Institute hosted by Cells to Society (C2S): The Center on Social Disparities and Health, within Northwestern's Institute for Policy Research (IPR). C2S is reaching across Northwestern's two campuses and a number of social, life, and biomedical disciplines to offer a 21st century look at how biological, social, and cultural dynamics intersect and affect health throughout the lifespan.
The growing interest in using blood, saliva, DNA, and other biomarker methodologies to enhance social science research was brought home throughout the institute sessions. Participants learned about the strengths and limitations of using such technologies to measure stress, cardiovascular, immunological, and other health effects for their studies. At the wrap-up session, Dr. McDade and fellow C2S faculty members Emma K. Adam, PhD, assistant professor of education and social policy, and Christopher W. Kuzawa, PhD, assistant professor of anthropology, fielded numerous questions, promising to use e-mail and the Web to keep alive the researchers' discussions about biomarker technologies and their emerging use for social science studies.
C2S's emphasis on biomarker methodologies in community-based and population studies—such as in surveys that examine health in aging adults and stress in adolescents—is an important factor in the center's recent award of $1.2 million from the National Institute for Child Health and Human Development (NICHD).
"We won this grant because of the Institute for Policy Research, which has a 40-year history of work on inequality, combined with our innovative approaches to bringing social, life, and biomedical sciences together to address population health from pregnancy through old age," said Lindsay Chase-Lansdale, PhD, director of C2S, IPR faculty fellow, and professor of human development and social policy at Northwestern.
Health related to socioeconomic disparities in stress levels, for example, is a major focus of C2S. Targeting racial and ethnic health inequalities is another top priority.
"We researchers have explained mental and physical health by levels of education, income, access to health care, parenting, and so on," said Dr. Chase-Lansdale. "We now are proposing to look at the biomarkers of stress related to discrimination, to segregated neighborhoods, to the psychological distress of not having enough income or wherewithal to protect your children from violence and poverty."
C2S's focus on stress is informed by extensive literature showing that the fight/flight response occurs too often in modern life and lasts too long. C2S researchers are drawing on emerging research that examines how stress levels affect brain and body chemistry in relationship to poverty and discrimination.
Stress is now seen as a major risk factor to health, with effects perhaps as large as those caused by cigarette smoke," Dr. Chase-Lansdale said. "Research shows that a lot of intense stress early in life may be related to such problems as cardiovascular disease, obesity, and diabetes down the road."
Measuring pre-disease pathways of young people as predictors of how health will be affected later in life is a characteristic of C2S research. Another study that is getting under way will measure stress related to discrimination as a possible precursor to cardiovascular risks. And true to Cells to Society's name, a provocative C2S study found a link to increased risk of diabetes, hypertension, high cholesterol, and heart attacks for adults who did not get enough nutrition in utereo.
"C2S is addressing important questions, given the consistent positive correlation between adults' health and their level of education," said Penelope L. Peterson, PhD, dean, School of Education and Social Policy at Northwestern. "We currently are searching for a new assistant professor in social disparities, health, and education who will be an important link between our school and C2S."
C2S researchers also are involved in building relationships with leading researchers from the worlds of biology, biochemistry, and medicine. A number of formal and informal collaborations already are emerging.
"Researchers from the biological sciences recognize the importance of the social science perspective in health and are interested in methods that allow them to get measurements that are clinically relevant in non-clinical settings. They are interested in how minimally invasive field methods can be utilized to understand biology in relation to people's daily lives," Dr. McDade said.
C2S was a natural outgrowth of the IPR and its strong interdisciplinary approach to research on social inequality. In recent years, Dr. Chase-Lansdale and IPR leaders, including director Fay Lomax Cook, PhD, and associate director Jeff Manza, PhD, have increasingly become interested in how social, cultural, and ecological environments affect health—physically, emotionally, and cognitively.
"We became interested in how social experiences get under the skin and affect the body and how they lead to short- and long-term health outcomes," Dr. Chase-Lansdale said.
"For too long, biological, and social science research have been conducted apart," Dr. Cook added. "Yet by integrating the two, we have an unprecedented opportunity to overcome this 'silo mentality' approach to research and provide fuller understanding to some of our most pressing domestic problems—and ultimately to develop better policy solutions."
The $1.2 million developmental infrastructure center award that C2S received was based on an exceptionally high rating by NICHD and is an important first step in the center's strategy to ultimately apply for funding to become a full-fledged population center. The 18 preeminent population centers that currently exist in the United States receive NICHD awards of $600,000 to $1 million per year.
Dr. Chase-Lansdale is a developmental psychologist with numerous experiences in multidisciplinary, policy-relevant units and institutions. She currently co-directs a large-scale multidisciplinary research project on the implications of welfare reform for children and families. Her main focus is on the health and development of children and adolescents. Her research findings have been published in Science and reported on by The New York Times.
C2S's synergies will allow leading researchers from diverse disciplines to offer more precise findings on how complex biological, social, and cultural dynamics hinder health, she said.
Students also will greatly benefit from the synergies. "C2S is an important research initiative that is closely related to new directions in education, including our recently developed Global Health Studies program that has rapidly attracted a great deal of student interest," said Daniel I.H. Linzer, PhD, dean of the Weinberg College of Arts and Sciences. "We are especially excited in Weinberg about opportunities for students to combine classroom education with significant research experience working with faculty members. Both C2S and Global Health create such an opportunity."
"In the process," Dr. Chase-Lansdale said, "we expect C2S research to influence policy and practice agendas and ultimately reduce some of the challenging health disparities that people face throughout their lives."