New Students Welcomed at Founders' Day
Before a full house at Thorne Auditorium, Dean Lewis Landsberg, MD, welcomed the Feinberg School's newest students—the 174 members of the Class of 2010—during the Founders' Day Convocation on August 25. "We are delighted and thrilled that you have decided to enter the profession of medicine at Northwestern University's Feinberg School of Medicine," Dean Landsberg told the future physicians. "You have exciting times ahead."
In addition to reflecting on the "rare privilege of being a physician," he noted that the Class of 2010 is attending medical school at a "propitious" time. "The unraveling of the human genome has provided the basis for new understanding of disease processes and the development of therapies that were unimaginable more than a decade ago," remarked Dean Landsberg. " Rapid advances in the imaging of internal organs and the promise of stem cell biology are at the very frontiers of medical science."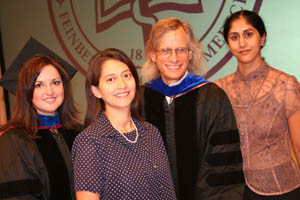 Among the faculty members receiving teaching awards are (from left) Drs. Rhonda Faulkner, Sandra Sanguino, James Baker, and Ramadevi Gourineni.
Raymond H. Curry, MD, GME '85, executive associate dean for education, announced the recipients of several faculty teaching awards. Peter B. Zeldow, PhD, associate professor of psychiatry and behavioral sciences, and Sandra M. Sanguino, MD '93, GME '96, MPH, assistant professor of pediatrics, received the Dean's Award for Teaching Excellence. The George H. Joost Outstanding Teacher Awards recognize faculty members' contributions to instruction in basic science and the Patient, Physician & Society (PPS) course. James Baker, PhD, professor of physiology, and Chau H. Wu, PhD, associate professor of molecular pharmacology and biological chemistry, received Joost Awards for basic science instruction, while Rhonda Faulkner, PhD, research assistant professor of family medicine, and Noel A. DeBacker, MD, assistant professor of clinical medicine, received Joost Awards for PPS instruction. Ramadevi Gourineni, MD, instructor in neurology, received the American Medical Women's Association/Upjohn Gender Equity Award for creating a gender-fair environment for the training of physicians.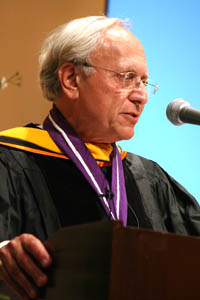 In an entertaining address, Dr. Robert Goldman, chair of cell and molecular biology, spoke on "curiosity-driven research" and human aging.
Giving the entire audience a short lesson in basic science, Robert D. Goldman, PhD, Stephen Walter Ranson Professor and chair of cell and molecular biology, presented, "Good Medicine Comes from Basic Science: A Short Story of Curiosity-Driven Research and Human Aging." In his entertaining address, Dr. Goldman emphasized the important relationship between basic science research and clinical medicine. In centuries past, this important relationship wasn't always acknowledged, he noted, and in fact a distrust of science was sometimes de rigeur on the part of physicians. Relating the perspective of an expert who has written recently on this topic, he said the distrust may be based on "the dichotomy between the self-confidence required at the bedside and the self-critical uncertainty that is essential in research."
Remarked Dr. Goldman, "It's obvious that delivering medical care is very different from [conducting]basic biomedical research. Physicians working with patients must use all the information available to them to help patients. They minimize risk to alleviate patients' pain and suffering. On the other hand, the greatest discoveries in basic science come from very risky experiments that may span years of work before meaningful data are obtained."
Dr. Goldman discussed his 25 years of research into proteins called lamins, critical factors in DNA replication, gene transcription, nuclear assembly, and chromatin organization. "We became curious about lamins when we found that they were close relatives of proteins called keratins, which are familiar to many people because they are common ingredients in skin creams and shampoos," he explained. "We were driven by curiosity to find out why these keratin-like cells resided in the nucleus of every cell in the body."
In 2003, his expertise in lamins was called upon when fellow researchers contacted him to reveal study results showing that lamin A was mutated in a condition called progeria, which causes premature aging in children. Children with the rare condition (it affects one in 4–8 million) appear normal at birth but begin to demonstrate the physical signs of aging, including hair loss, loss of subcutaneous fat, and osteoporosis. They have an average life span of only 13 years, typically dying of heart attacks or strokes related to the disease.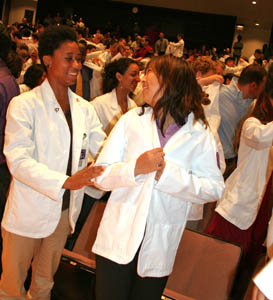 Students of the Class of 2010 don their white coats for the first time.
In 2006, only three years after the publication of the link between lamin A mutations and progeria, "they're ready to begin drug trials," said Dr. Goldman. He noted that the time between basic science discoveries and clinical trials is getting shorter and pointed out that untargeted basic science research such as that into lamins can "pay off" clinically.
Arjun Venkatesh, president of the Medical School Student Senate and a member of the Class of 2008, described many of the accomplishments of the school since its founding in 1859, then spoke about his own experience on the patient wards. He encouraged the new medical students to remember two simple rules for success: the patient is the boss, and the patient is smarter than you are. He added, "You should plan for a little studying along the way, too."
After reciting the Professional Conduct Code, the students donned, for the first time, the white coats that signify their entry into the medical profession. Then, joined by physicians in the audience, they recited the Physician's Creed.