Mittal Leads New Department of Radiation Oncology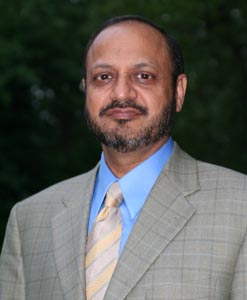 The ranks of Feinberg School departments has grown to 25 with the addition of the Department of Radiation Oncology. Formerly a division of the radiology department, the new department is led by Bharat B. Mittal, MD, GME '80, professor and faculty member since 1985.
"The goals of the department are to provide the best possible care for cancer patients, train future leaders in the field of radiation oncology, and conduct laboratory research to understand the etiology and management of various cancers," says Dr. Mittal.
Consisting of 13 physicians, physicists, and researchers, the department participates in several national group trials in addition to conducting research focused on the application of nanocomposites in the diagnosis and management of various cancers.
The clinical facility, housed at Northwestern Memorial Hospital (NMH), provides therapies ranging from 3-D conformal radiation to gamma knife radiosurgery. An additional radiation oncology facility will open in NMH's new Prentice Women's Hospital, scheduled for completion in 2007.
Radiation oncology's residency program is ranked among the top 15 percent of such programs in the country. The department also operates, in conjunction with NMH, the only radiation therapy technology school in Illinois.