Garbes Honored as Employee of the Year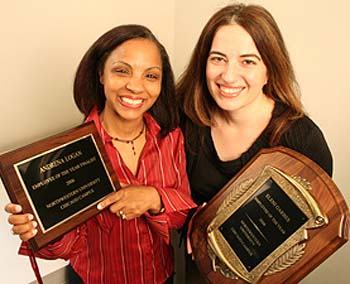 Eleni Garbes, Employee of the Year for the Chicago campus (right), and finalist Andrena Logan.
The University recently recognized a Feinberg School employee in its selection of outstanding staff members from both the Evanston and Chicago campuses. Honored on May 3 at Northwestern's annual staff recognition luncheon held this year at the Hyatt Regency Chicago, Eleni Garbes, director of research facilities at the Robert H. Lurie Comprehensive Cancer Center of Northwestern University was named Chicago campus Employee of the Year. The University singled out Garbes from among more than 1,500 eligible staff members and research associates at the Feinberg School alone as well as others on the Chicago campus for her willingness to go above and beyond in her responsibilities and duties at Northwestern.
Andrena Logan, research administrator, Department of Molecular Pharmacology and Biological Chemistry (MPBC), was one of two finalists—one from the medical school and one from the law school—vying for the top award for the Chicago campus. Other nominees from the medical school included Ann Ross, director of communications, Office of Medical Development, and Rodney Greene, research laboratory manager, Department of Medicine.
The annual award goes to employees—nominated by their Northwestern colleagues—who have demonstrated exemplary commitment and service to the University during the past year. The honor rewards job performance, collaboration, professionalism, and customer service to name a few attributes.
Garbes' successful and ongoing management of the relocation of Cancer Center offices and laboratories to four floors of the new Robert H. Lurie Medical Research Center wowed not only her colleagues but also the Employee of the Year selection committee.
"For this extraordinary event, a single person behind the scenes has by far made the greatest impact on making this center operate as a world class research facility and that is Eleni Garbes," wrote a coworker, who nominated Garbes. "Anyone who has worked with Eleni during this time of enormous change is taken aback in awe. In a daunting position, unprecedented in scope, she has met the challenges and been indispensable in fulfilling the promise of the new building and mission of the Cancer Center."
Logan, research administrator in the Department of Molecular Pharmacology and Biological Chemistry, was a finalist for the award. Since joining the department in 2001, Logan has been promoted twice for her "continued superb performance." Her roles span a wide range, including making budget estimates on National Institutes of Health grants submitted by department faculty members, assisting them in completing research grant applications, and developing a database that was instrumental in recruiting two faculty members. "It is hard to imagine our department without Andrena," said Paula H. Stern, PhD, department vice chair, who was among several people to nominate Logan. "She is truly exceptional and well deserving of this recognition."