Children's Memorial Hospital to Move to Streeterville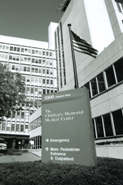 After reviewing various sites in the city of Chicago, Children's Memorial Hospital's (CMH) board of directors voted unanimously on April 4 to begin planning for a $800 million replacement hospital in the Streeterville area. This would place the Feinberg School of Medicine and its primary pediatric teaching hospital (affiliated since 1946) in close proximity on Northwestern University's Chicago campus.
CMH announced this month that the new hospital would be located between Chicago Avenue and Superior Street, just west of Northwestern Memorial Hospital's new Prentice Women's Hospital due to open in the fall of 2007. This adjacency would improve transitional care for patients with congenital problems or children with chronic illnesses.
Groundbreaking for the new CMH is expected to take place in 2008; the new hospital would open in 2012 with 275 private single-bed rooms, eventually expanding to 343. This would enable Children's to treat 12,000 or more patients annually, compared with 9,000 at present.
CMH, located in the Lincoln Park area since its founding in 1882 (present hospital shown above) is home to nearly 500 faculty members in the Feinberg School's Department of Pediatrics and serves as the training base for 83 pediatrics residents and fellows. All medical students at the Feinberg School (170 per class) complete their pediatrics rotations at CMH.