Alum Thomas Starzl to Receive National Medal of Science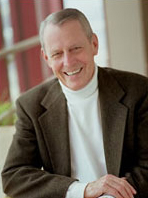 Feinberg School alumnus and internationally renown transplant surgeon Thomas E. Starzl, MD, PhD, will receive the National Medal of Science at a White House ceremony February 13.
The nation's highest scientific honor, the National Medal of Science is bestowed annually by the President of the United States on individuals who have made outstanding contributions to knowledge in the physical, biological, mathematical, engineering, and social and behaviorial sciences. Dr. Starzl performed the world's first successful liver transplant in 1967.
According to the National Science Foundation, which administers the National Medal of Science program, Dr. Starzl was selected for "his unique contributions to basic and applied science that resulted in the emergence of organ transplantation as a widely available treatment."
A native of Iowa, Dr. Starzl in 1950 received a master's degree in anatomy from Northwestern, where two years later he earned a PhD in neurophysiology and an MD degree with distinction. He served on the Northwestern faculty from 1958–61, then joined the University of Colorado School of Medicine. While there he developed an immunosuppressive regimen for kidney transplantation that combined azathioprine and corticosteroids. The success of this regimen resulted in renewed efforts around the world to treat end-stage kidney disease with transplantation. Dr. Starzl stayed on at the University of Colorado until 1981, performing 1,000 kidney and 200 liver transplants during his tenure. In 1980 he introduced the anti-rejection medications anti-lymphocyte globulin and cyclosporine, which became the standard for transplant patients with liver, kidney, and heart failure and advanced transplantation from an experimental procedure to an accepted form of treatment for patients with end-stage disease.
Dr. Starzl joined the University of Pittsburgh School of Medicine in 1981, serving as chief of transplantation services for three of the school's affiliated hospitals and overseeing the world's largest and busiest transplant program. In 1989 he announced the first use of the anti-rejection medication FK506, which significantly increased survival rates for patients with liver and other organ transplants and opened the door to other successful types of transplants, including pancreas, lung, and intestine. Dr. Starzl and his team of researchers had been instrumental in the development of FK506.
In 1991 Dr. Starzl became director of the University of Pittsburgh Transplantation Institute, which in 1996 was renamed in his honor. Founding president of the American Society for Transplant Surgeons and the Transplant Recipients International Organization, he has written or co-written more than 2,130 scientific articles, four books, and 292 book chapters. According to the Institute for Scientific Information, the prolific Dr. Starzl once averaged one paper every 7.3 days. In 1999 the institute identified Dr. Starzl as the most cited scientist in the field of clinical medicine.
Retired from clinical and surgical service since 1991, the 79-year-old Dr. Starzl remains active in research. Transplant tolerance and chimerism—the coexistence of donor and recipient cells—are a focus of his current work and have led to a greater understanding of how and why organs are accepted.
Dr. Starzl's autobiography, Puzzle People: Memoirs of a Transplant Surgeon, was published in 1992 and has been translated into several languages.