In Memoriam (Kenneth Viste Jr.)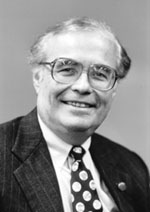 Neurologist Kenneth Viste Jr., MD '66, GME '70, died August 21 of complications from gallbladder cancer in Rochester, Minnesota, at age 63. Past president of the Northwestern University Medical Alumni Association, Dr. Viste received the Distinguished Alumni Award in 1999 for his service to his profession, Northwestern, and the greater community. From 1974–93, he acted in an advisory capacity for medical school deans through his membership on the Board of Alumni Councillors. Most recently, he joined the Medical School Scholarship Committee and served as a class representative.
"He was deeply committed to Northwestern and to furthering medicine as a whole," noted Dean Lewis Landsberg, MD, who consulted with him in various capacities over the past several years. "I admired his devotion to working with his fellow alumni to better his school as well as his contributions to disability advocacy. The man was an institution unto himself. He will be sorely missed."
Born and raised in Wisconsin, Dr. Viste was afflicted with polio at 13 and afterward used a wheelchair. Determined to never let his disability hinder his accomplishment, he attended University of Illinois at Champaign-Urbana on full scholarship and graduated Phi Beta Kappa in 1962. He remained loyal to the university throughout his life, and it was his involvement as a volunteer that led to his meeting his future wife, Jan Carter, with whom he happily spent the final 12 years of his life.
Graduating from Northwestern's medical school in 1966, Dr. Viste pursued neurology because he felt he could have the greatest impact in that field. He entered private practice as a neurologist in Oshkosh, Wisconsin, in 1970 and eventually founded Lakeside Neurocare. Later, as professional and personal interests took him around the world, he always remained committed to his local patients in the region. He also served as medical director of the Physical Rehabilitation Unit at Mercy Medical Center in Oshkosh from 1974 until his passing.
Active in public policy, Dr. Viste served as a frequent adviser to the government on health care, including as president of the State Medical Society of Wisconsin from 1987–88; president of the American Academy of Neurology from 1995–97; state delegate to the American Medical Association; and as 1 of 10 physicians appointed by U.S. Health and Human Services Secretary Donna Shalala to the Practicing Physicians Advisory Council during the Clinton administrations.
An avid traveler, swimmer, and member of numerous boards and charitable organizations, Dr. Viste always kept his patients as his primary concern. Still finding time to make house calls until his recent retirement, he was known far and wide for his deep intelligence, kindness, sense of humor, ambition, and integrity.
"Dr. Viste was a truly remarkable man," remembered Ginny Darakjian, assistant dean for alumni relations at the Feinberg School. "People who knew and loved him were continually inspired by the strength of his character. I will never forget his tremendous loyalty to Northwestern or his tireless service in helping others."
He is survived by his wife; children Doran, Kenneth, and Kari; their mother Jane; step-children Elliott and Shayna; mother Edith; brother George; and sisters Carol and Mary.
Funeral services are Friday, August 26, in Oshkosh, Wisconsin.