Annual Report Dissects "Anatomy" of the Feinberg School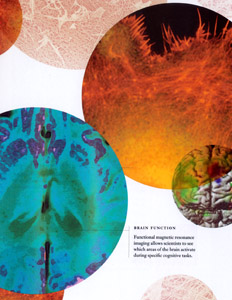 Examining how the component parts of the Feinberg School of Medicine interconnect to enable success, the school's 2003–04 annual report, entitled Anatomy, is now available online.

The education section highlights students in the MD degree, physical therapy, and genetic counseling programs; Angela Nuzzarello, MD, the new associate dean for student programs and professional development; and the addition of educational space in the McGaw Pavilion of the Health Sciences Building.
Students in the Medical Scientist Training Program and Integrated Graduate Program in the Life Sciences get top billing in the research section, along with the Robert H. Lurie Medical Research Center of Northwestern University and research including a large grant to study Parkinson's disease and a study on abdominal aortic aneurysms—the first to use samples from the school's NUgene gene banking project.
The "body" of the school would not be complete without clinical service, and this section reviews news-making events at the Feinberg School's clinical affiliates: Children's Memorial Medical Center, Evanston Northwestern Healthcare, Northwestern Memorial Hospital, Rehabilitation Institute of Chicago, Jesse Brown VA Medical Center, and Northwestern Medical Faculty Foundation.
Wrapping up the annual report are philanthropic gifts and gifts of medical supplies and funds contributed through the student-run Global Medical Relief Program, whose origins are documented in the report's community services section.
Production of the annual report was coordinated by the Feinberg School's Office of Publications and Public Relations. Pivot Design of Chicago provided graphic design expertise; Jim Ziv was the principal photographer.
To view the annual report, visit http://www.feinberg.northwestern.edu/ar2004/.